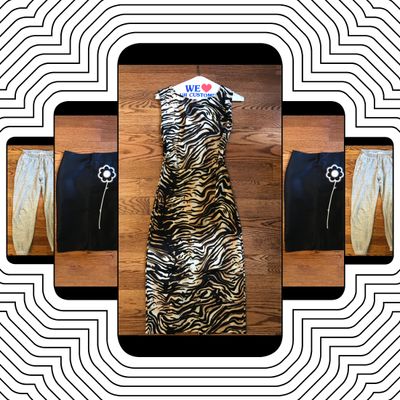 Photo-Illustration: by The Cut
Now more than ever, people are experiencing fashion through their phones. In "Screen Time," fashion writer Emilia Petrarca shares all the screenshots, double taps, and swipes she made this week.
My phone keeps reminding me what happened "on this day" a year ago, or telling me: "You have a new memory." It's resurfaced some surprisingly good outfits, and the memories I associate with them. Like that time I wore a tiger-print dress to go meet a friend for drinks in June and the sky broke open in one of those classic New York summer downpours. We grabbed our wineglasses and cheese plate and ran inside the bar, and then suddenly we were inside a bar for the first time in months, and I was happy to be wearing a tiger-print dress.
But what about all the memories I don't have photographed? That just live in my closet? On Sunday, I did that thing you do when you finally decide that winter is over, which is dig all your warm-weather dresses and skirts and tops out from the back of your closet. Per usual, I was struck by the amount of stuff I own. But also, whoa, bad memories.
They came out of nowhere and all at once. The release valve was a secondhand black nylon Prada skirt with a single white flower on it that I found on The RealReal last year. I love this Prada skirt. It's one of my favorite things I own, from one of my favorite Prada collections of all time (spring 2013). The first time I wore it was February 2020. I know this because I took a photo of my outfit in the mirror of our new office bathroom. A month later, our offices closed. And about two months after that, my cousin died and I needed something to wear to his funeral. That was the second and last time I put it on.
I remember grabbing the skirt in a rush. At the time, I was living with my family upstate, but I'd insisted that we drive back to the city so that we could all pack appropriate outfits. I hadn't been to my Brooklyn apartment in weeks. My plants were all wilted. I was wearing blue surgical gloves and could see my hand sweat pooling underneath the rubber as I rummaged through my closet while my family waited in the car downstairs.
I wanted to look nice for him. He was frugal, but always well-dressed in a neatly ironed Ralph Lauren shirt and khaki pants. My dad taught him about style in the same way that he taught me about style. We shared that. Whenever we saw each other, he was genuinely curious about my job, and would ask me about the latest trends or designers I liked. He really seemed to care, and I appreciated that more than I think he knew.
When I saw the skirt folded over a hanger in my closet that afternoon last year, almost unrecognizable in a sea of other black items, I believed momentarily in a higher power. It was perfect. It was stylish and appropriate and something about that single white flower with the long stem seemed like an offering; like I was reaching out and giving it to him myself.
It's funny — until last weekend, that white flower was a symbol in my mind of spring and happiness and new beginnings. Of a really good "post-pandemic" outfit. I was planning on wearing the skirt on my birthday later this month. Yas! And then I pulled it out of my closet and reality hit. I remembered the way my goosebumps chafed against the nylon fabric as I shivered during the socially distant service outside. The damp pool of snot in my face mask. My block heels sinking into the grass at the cemetery.
Time has been such a slippery thing this year. I guess I did what a lot of people probably did, which is take all the bad memories and shove them into the back of the metaphorical closet that is my mind. For a while, it felt like I had dreamt my cousin's funeral. It was so surreal. There were doves. But holding that skirt in my hands made everything more tangible, in a way that was both heavy and freeing.
What do we do with bad clothing memories? I'm not sure I have a good answer other than to make new ones. I'm going to wear that skirt on my birthday, as planned, and bring my cousin with me. I might not style it with the same T-shirt, but I'll wear it just the same.