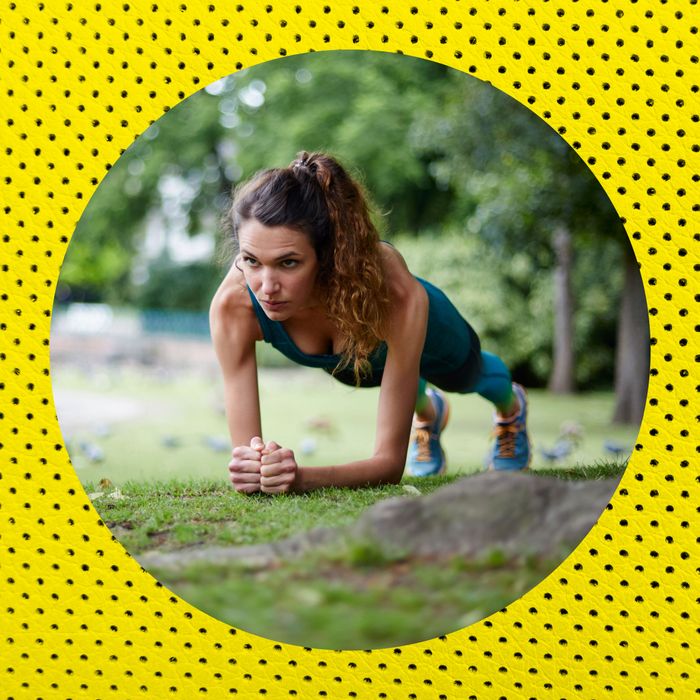 Photo-Illustration: by The Cut; Photos: Getty Images
"Hot Bod" is a weekly exploration of fitness culture and its adjacent oddities.
Every weekend recently, I've sounded like a broken record stuck on the best part of the song: Let's go to the park! Should we do that in the park?! 6 still good? Meet at the park? It's like the "body" part in "Body" by Megan Thee Stallion, except it's park park park park park. This past Sunday, visiting the park only got delayed because I wanted to work out for a bit first. In the early afternoon, sprawled among magazines, wine in a free thermos from a CBD company, and a game of cribbage, I saw someone who, inspirationally, didn't delay her park time for exercise. She brought her jump rope along. She hopped around by her friends' blanket as they lounged. She fitnessed alongside them for a little bit, until she was ready to also rest in horizontal languor.
She just seemed so capable to me! I, too, could be so capable. I could just bring my own props (little wrist weights) and do my oblique time under the gentle shade of a flowering tree and the wavering demands of socializing. This gentle mayhem, free-for-all is my very favorite dynamic of the park. Everyone can do their own thing, but also be all together. Your friends can be chatting, and you can be reading, and you can be napping, and you can be jump-roping, and you can be talking and it's all welcome.
From here on out, I would like to be reading and preening and doing my little exercises outside, with everyone in the world as my distanced companions. Doing a chill half-hour body-weight routine, ordering widely from the breakfast taco truck, and returning to a book and a friend? I couldn't wait!
And then, getting ready to workout a couple days ago, when the weather was unimpeachable and absolutely built for basking, I balked. I couldn't just bring myself and my sports bra to the park. I remembered what had been stopping me my whole life. I'd seen a few people doing their mat exercises on the field, but they stand out. Standing out is, unfortunately, a dealbreaker for me, because I'm not into strangers approaching me while I'm exercising. I harbor a perhaps unfair but nonetheless intractable "creepy until proven otherwise" policy regarding strangers coming up to me while I'm evidently engaged in some activity. So the only time I exercise in the park is when I'm going to be on the move and uncatchable, running or cycling.
Which leads me, like an exhausted sunbather to shade, to my proposition: what if you worked out in the park? So that I could also work out in the park. And there would be a few of us and we wouldn't be so notable. This nascent era of post-pandemic possibility could mean we have a very rare chance to establish new collective practices. I know if at least … a half-dozen people were holding it down on their mats and in their squats, I would too. And then I would never go anywhere else! I mean, if I were to overhaul the gym, as a whole concept, it would basically be the park. It'd be ventilated with a soft breeze, blasted with antiseptic sunlight, the studios would be pocked with flowering trees and cuties reading their books and dogs sniffing. And the floor would be much softer and mostly covered in grass and all the lesser blankets in our possession.
I know it may take everyone a little while to gather their mats and determination, so in the meantime, I feel like we can all recruit a friend. Because another unassailable advantage the park holds over a gym is that everyone has a membership! Everyone can stop by and I want them to!
But above all, the reason I'd love us all to do exercises in the park is that I want new ideas. The park is classic for walking, running, and biking — but can you imagine when rollerblades first glided onto the scene? I'd forgotten how invigorating jump-roping looked until I saw park stranger leaping. I want to know about it all. I want to see how everyone's been moving — while doing my own thing too. I want envy and showing off and anonymity and just you and also everyone we know!