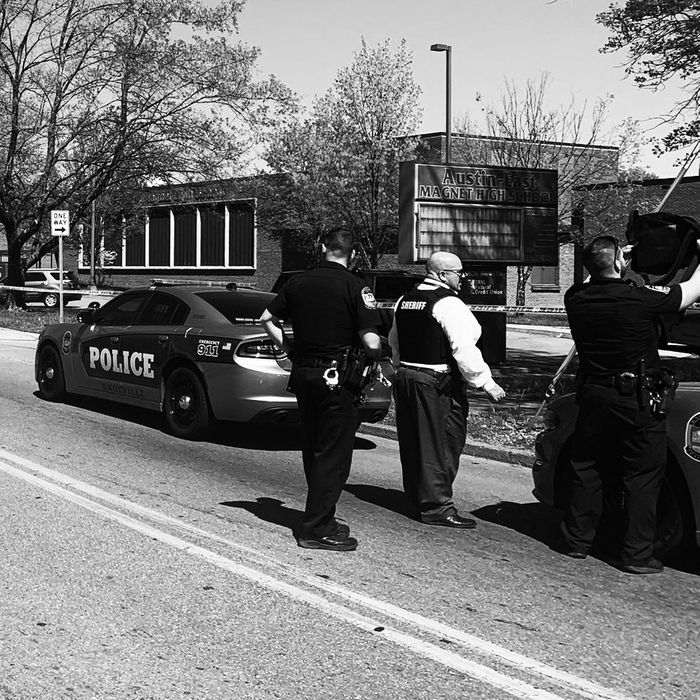 Police shot and killed a teenager at Austin-East Magnet High School in Knoxville, Tennessee, on Monday, after officers responded to reports that a student potentially had a gun on campus. One of those officers was wounded in the confrontation, but contrary to what authorities said at the time, not by the student: "Preliminary examinations indicate the bullet that struck the KPD officer was not fired from the student's handgun," according to the Tennessee Bureau of Investigation's updated statement.
The TBI has identified the teenager as 17-year-old Anthony J. Thompson, Jr. According to the TBI, two officers — school resource officer Adam Wilson, a "20-year veteran" of the department, per the KPD, and one other — located Thompson, who was Black, in a bathroom at Austin-East. They reportedly ordered him to come out, but he refused. "During a subsequent struggle, the student's gun was fired," the TBI statement says. "This was followed by law enforcement firing twice."
That's a different version of events than the one the Knoxville Police Department and the TBI initially presented. Per NBC, TBI director David Rausch first said Thompson fired his gun twice, hitting Wilson and prompting one officer to return fire. It's still not clear whether or not Thompson brought the gun to school with the intention of using it.
On Monday, as police and school officials declined to answer questions from reporters, Knoxville mayor Indya Kincannon said the officer was "conscious" and "going to be okay." He reportedly underwent surgery on his hip at UT Medical Center and is recovering.
The TBI did not clarify which of the officers is believed to have shot Thompson, but as of about two weeks ago, all uniformed KPD officers are outfitted with body cameras. On Wednesday, about 50 people reportedly convened at the Knox County Board of Education meeting to demand the release of body-cam footage. Demonstrators also asked the Board to implement additional safety systems and mental-health support for students, many of whom are already grieving friends and classmates: According to WBIR, four current and former Austin-East students, all of them teenagers, have died in shootings since January. After the protest, Mayor Kincannon tweeted her "support for releasing any incident videos to the media and public as soon as it is legally allowed."
"I hear and feel the frustration, pain, and anguish as we grapple with the tragic shooting inside Austin-East High School," she wrote. "I am committed to transparency and hope that a greater understanding of the circumstances of this tragedy will help our city heal."
Kincannon went on to say she asked District Attorney General Charme Allen to release redacted footage, but Allen "respectfully declined," citing a desire "to maintain the integrity of the ongoing investigation and to protect the constitutional rights of anyone who might be charged as a result." According to the Knoxville News Sentinel, the TBI will not share footage until the case is closed.
But while TBI records are confidential, the Sentinel notes that Allen does actually have the power to release video before the investigation wraps — though because this case involves a minor inside a school, confidential information would have to be redacted first. The argument that making footage public undercuts law enforcement's efforts is a familiar one, and as the Associated Press reported in 2019, it enables police departments to keep body-cam recordings away from the public for "months, years, or even indefinitely" — until scrutiny on the case at hand cools. This tactic contributes to mounting skepticism of official police narratives, particularly when it comes to fatal shootings. According to the Washington Post's database, police have killed at least 52 Black people in 2021 alone. Per the Post's records, of the five Black men police shot and killed just this month, body-cam footage is said to be available only for Daunte Wright — who was killed during a traffic stop in Minnesota by an officer who is now charged with second-degree manslaughter.
This article has been updated.