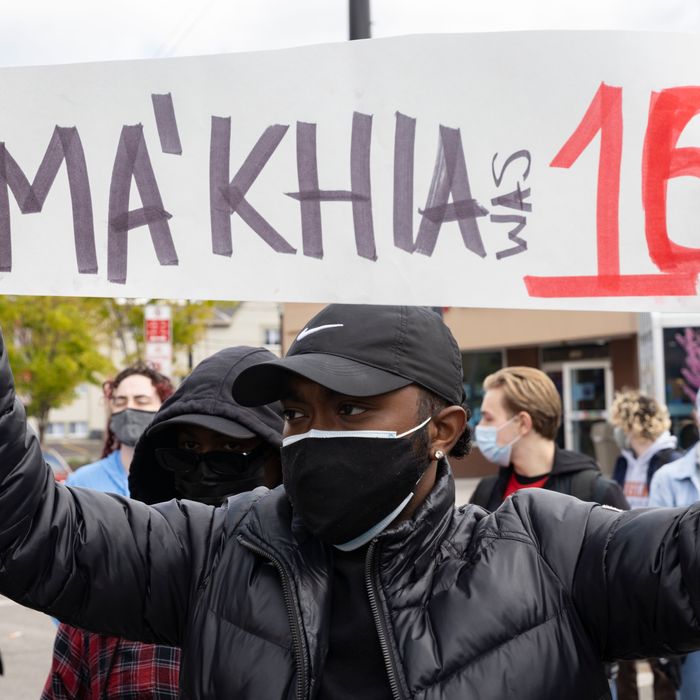 Photo: SOPA Images/LightRocket via Gett
On Tuesday, April 20, not long after the Minneapolis courts delivered a guilty verdict for former police officer Derek Chauvin, news broke that Ma'Khia Bryant had been killed by police. Bryant, a 16-year-old Black girl from Columbus, was shot multiple times just moments after the cops arrived on the scene. In the aftermath of the shooting, another cop reportedly shouted "Blue Lives Matter" toward a group of neighbors.
Though many spent April 20 celebrating the police "accountability" from the outcome of the Chauvin trial, Bryant's death stands as a gruesome reminder that the American system of policing has not been held accountable. Not even close.
Bryant is one of several Black and brown youth who have been harmed or killed by the police in recent months. In January, several police officers in Rochester restrained and pepper-sprayed a 9-year-old girl. Earlier this month, Chicago police shot Adam Toledo, a 13-year-old child, as he held his empty hands up in surrender. Since 2015, police have killed at least 22 children under the age of 16. Black youth are six times more likely to be shot to death by cops. Each of these incidents solidifies a devastating but crucial truth: Police do not keep children of color safe and all too often are the ones putting them in danger.
The history of the United States is littered with instances of adult violence against young people of color. In 1955, two white men beat and killed 14-year-old Emmett Till for allegedly flirting with a white woman. (Those two men were charged with murder but acquitted; in 2017, the woman admitted she had lied.) In 1968, 17-year-old Bobby Hutton, a member of the Black Panther Party, was shot to death by police in Oakland. In 2014, the modern Black Lives Matter movement was founded after the police murder of 18-year-old Michael Brown in Ferguson, Missouri. Last year, a court ruled that the police officer who shot Brown would not face any charges.
It doesn't help that mainstream media contributes to the portrayal of Black and brown teenagers as menaces that deserve brutal violence from police. In the aftermath of Brown's death, the New York Times published a profile that described the unarmed teenager as "no angel." After 12-year-old Tamir Rice was killed by Cleveland police in 2014, the media fixated on the technicality that Rice was carrying a toy gun at the time of his murder — a fact that becomes particularly twisted in light of recent news that some police departments have admitted their officers have carried around fake guns to plant on people they've shot. As recently as this month, the Chicago Tribune published an op-ed cautioning people against "turning slain 13-year-old Adam Toledo into a martyr."
Even when police officers do not use deadly force on Black and brown youth, they still often enact emotional and psychological harm. The video of George Floyd's murder was originally caught on film by Black Minneapolis resident Darnella Frazier, who was 17 at the time. Since then, Frazier has had to relive Floyd's death again and again while speaking to the press and at Chauvin's trial, and she has become a mouthpiece to a movement with millions of eyes on her. Frazier has been credited with being the reason that Chauvin received a guilty charge — but at what cost to her own emotional well-being? "It's been nights I stayed up apologizing and apologizing to George Floyd for not doing more and not physically interacting and not saving his life," Frazier told the jury in March.
That Bryant and Frazier were both so gravely failed by the police is a testament to the uniquely difficult positionality of young Black girls at the hands of police officers and other authority figures. According to a 2017 report released by the Georgetown Law Center on Poverty and Inequality, adults overwhelmingly view Black girls as less innocent and more adultlike than their white peers. This process, also known as "adultification," causes adults to view Black girls as less in need of the protection and support that would normally be offered to other children.
We often see this dynamic play out in police interactions: In body-camera footage capturing the young girl in Rochester who was handcuffed and pepper-sprayed, an officer can be heard yelling, "You're acting like a child!," to which the 9-year-old girl insists, "I am a child!" The officers' refusal to recognize her as such reflects a widespread bias. Stripped of the presumption of innocence and leniency typically afforded to children, Black girls are often subject to harsher punishments — be it increased rates of incarceration and police violence like Bryant, or, in the case of Frazier, forced to endure other kinds of psychological trauma.
All too frequently, politicians across the aisle weaponize children's vulnerability to enact more policing. The heavy presence of cops and school resource officers persists at public schools across the country despite a long student-led battle for police-free campuses. This police presence has done nothing to quell the number of school shootings, which has been climbing steadily for years. As of last week, a recent court ruling has made it even easier for minors to be assigned life without parole, a law that will inevitably affect Black and brown youth at disproportionate rates.
Ma'Khia Bryant — and too many others — should still be with us. Darnella Frazier deserved a life of peace. If we want to honor them, we must fight for a better world than the one they were handed: one with well-funded education, better youth mental-health care, and a radical new version of public safety that prioritizes the care, investment, and protection of youth. All youth.