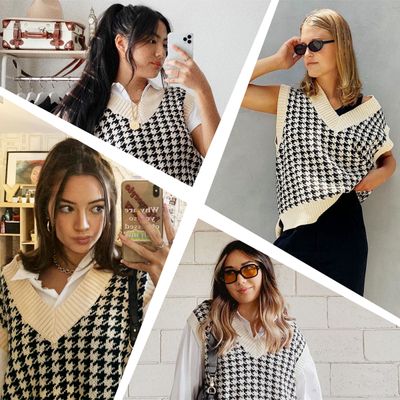 Four fashion influencers styling the ubiquitous houndstooth sweater vest.
Photo-Illustration: by The Cut; Photos: @inmyseams, @laurenelson, @thekittyluxe, @isabelleyeet/Instagram
Remember the Amazon coat that went viral in 2018? Something about the idea of an affordable, genuinely popular fashion item from a place as trend-indifferent as Amazon seemed to capture the public imagination, and it was followed by several smaller viral moments, including an Amazon dress and an Amazon swimsuit. Now, there's a new one to add to the list: Meet the Amazon sweater vest, an oversized V-neck with a houndstooth print that costs $22.
Sold by a brand called SLLSKY, the vest has been popping up everywhere in black and white, although it's also available in blue, khaki, pink, and red via other Amazon retailers. I've seen it as part of TikTok Amazon hauls and Instagram styling stories, on influencers at all different levels of followings, such as Lauren Elson, isabelleyeet, and inmyseams. Numerous other fast-fashion brands, such as Yes Style and Zaful, have caught on to this trend and created their own version.
Why this vest? Partly it's due to the recent comeback of '70s fashion. Cool-girl brands Ganni and Anderson Bell have debuted their own fun, colorful sleeveless sweaters; Harry Styles even wore one to the Grammys. (Always ahead of the trend, he was spotted in the grandpa-chic style as early as 2019.) The Amazon version is super affordable and slouchy enough to look good on a variety of body shapes. And the black and white really pops on a small screen – which I've noticed because every time I open my phone, there it is.
Every day, it becomes more obvious to me that I'm not going to be able to escape this trend. See below for even more evidence.
Where to Buy It
Just in case you're now feeling fully influenced.
Every product is independently selected by our editors. Things you buy through our links may earn us a commission.