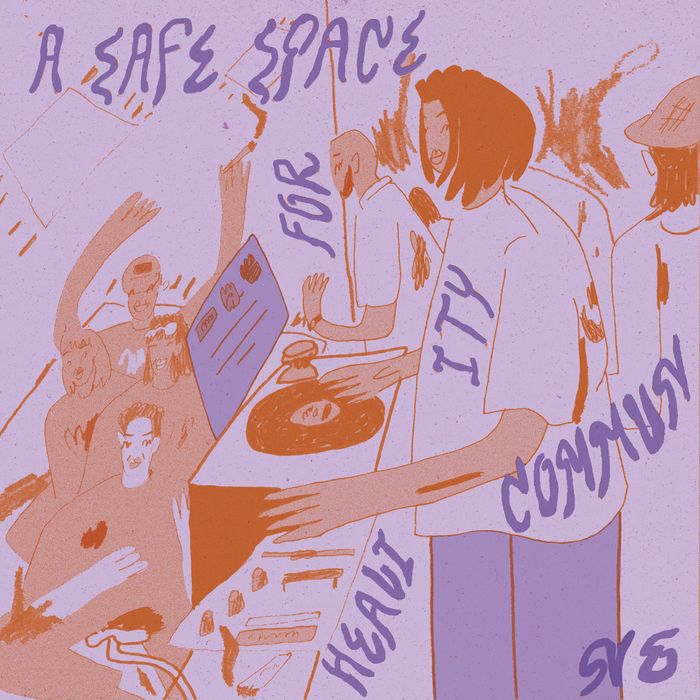 Illustration: by Luci Pina
We're a year into the COVID-19 pandemic, and while we're not out of the woods yet, the distribution of vaccines has provided a much-needed cause for optimism. As more people receive their shots, and as the weather gets warmer and makes outdoor socializing a possibility again, it's difficult to resist envisioning better days ahead and even making plans. Given that, the Cut asked some of our favorite writers to explore what the post-pandemic future will look like, from hugging and PDA to drugs, community, and cooking.
Before the pandemic struck, skin care was booming. Then came a year of isolation that forced many people into working and socializing primarily online. Lockdown inadvertently created the perfect environment for staring at your own pixelated pores, whether on social media (where you can instantly zap yourself into beauty via an endless bounty of filters) or on apps like Zoom. What happens to a skin-care obsessive after a full 12 months of this? Read more.
In quarantine, with almost everything mediated exclusively through the Internet, a certain type of person has come out of the woodwork. Online, from the comfort of their own homes, Main Characters are propelling themselves into a socially distant sort of celebrity. The pandemic has created the perfect conditions for them to become spectacles, in a good way. As a Main Character myself who is obsessed with taste, aesthetics, and the public performance of womanhood — the subjects I'd frequently write about for my now-defunct, soon-to-be quarazine Substack newsletter — I've been doggedly mining the ephemerality of Main Character energy for the last year. (And I'm not the only one.) Read more.
Last summer, the park was a minefield. All spring, I'd taken walks, alone, ruminating on how alone I was, but knowing pretty much everyone else was, too. Until, suddenly, I noticed everyone was really not alone. It was summer. The benches were occupied by two people sitting at either end who, over the course of an hour, would become two people sitting in the middle. I strolled across the lawn, past people sprawling on blankets with wine and Bluetooth speakers, legs intertwined, fingers intertwined, and sometimes, for the brazen, bodies intertwined. It was sort of torturous, sort of arousing. It felt truly bawdy, like at any point a PG-13 orgy might break out. It was an assault on my own horn. Read more.
In my weaker moments I have this fear that the pandemic will end and it won't feel different. I'm talking those crawling-out-of-the-skin feelings, I'm talking what if my kids are both at school and the house is clean and the herd is immune but I didn't pee before I left to go to the grocery store to get the forgotten milk and my headphones are tangled up with my keys and while I'm trying to untangle them I drop my keys in the gutter and when I'm bending down to get them I pee a little in my pants and I am in the history of man the most bereft that anyone has been or will be. Read more.
Listen, I'm not a cinephile. I wouldn't call myself a movie person. But I do miss going to movies. Specifically, going to the small independent theater in downtown Iowa City with my friend Garth. We watched the usual festival fare — indie movies about ordinary lives shifted subtly off course, documentaries about cultural icons or everyday people in far-flung places. We'd go into the theater at 3 or 4 p.m. and then emerge in the early evening. We had dinner and then frozen yogurt, talking over what we just saw and how we wished it had been different. There was something easy about the spontaneous midweek movie hang, the way a whole day could be taken up once we decided we'd be seeing a movie. Read more.
I don't know exactly how to get us there, but there is a future where my head has found its way to your shoulder. It could be June in New York and we're sitting on your stoop, watching my dog perk his ears in nervous suspicion at every person who walks by. Or maybe it's an October in Ohio and we're back on my rooftop, tipsy and taking in the relative quiet after I dragged you to your first and last tailgate party. It could be July in some seaside city whose name I mispronounced when I first suggested we take a trip there and whose name I've mispronounced every time since because I like the laugh you try and fail to cage in your throat when I do. We could be anywhere. We are electric with knowing we could be anywhere. Read more.
It occurred to me that before March 2020, some of us had never thought twice about the whereabouts of our next-door neighbors, or had never put their ear to the wall to listen closely to the cough of a roommate in the next room. Some of us had never tipped extra for a delivery, or asked the courier, "How is your family?" and meant it, earnestly hoping to hear good news. Some of us had never grieved for the owner of their recently shuttered neighborhood joint, bought fresh groceries to fill a refrigerator they'd never take from, or grieved the death of a stranger. Some of us have never shopped for an elderly colleague, or voted for someone else's interests, or inconvenienced ourselves because it very well might save someone else's life. Read more.
I miss the way my mom, whom I haven't seen in over a year, pulls my face close to hers for a kiss on the cheek when I lean in to hug her. I miss the enthusiastic bear hug I share when I visit my old roommate Jason who now lives across the country. I miss running into my friend Erin, who I know doesn't like to hug at all, at a comedy club, and offering a friendly and respectful head nod across the table, which I think is its own kind of intimacy. Here's a humiliating fact about me: I am too pliable a hugger, and when someone pulls me close to their body I often end up standing with my forehead nestled to their shoulder, worried that they think I'm about to start crying. I even kind of miss that. Read more.
COVID-19 has cleared the arena for America's druggiest era, as the twin wrecking balls of economic devastation and psychic trauma leave a crater of suffering — and drugs come to fill the void. Welcome to the dissociation generation, baby! In this dawning new age, doctors prescribe party drugs, politicians push weed legalization as historic budget deficits loom, and everyone is tripping balls in the name of self-care. Maybe snorting your therapy sounded silly until the pandemic pushed our sanity to the brink; in quarantine, 13.3 percent of American adults started using substances or ramped up existing habits. My friends in New York have picked up ketamine like a cozy new hobby akin to knitting. Read more.