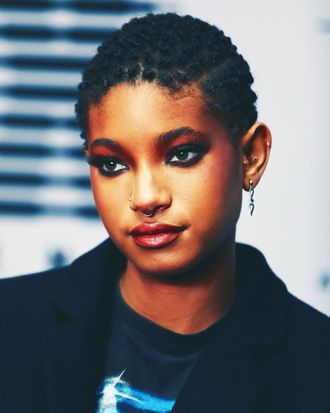 Willow Smith
Photo: Jerritt Clark/Getty Images for Savage X Fenty
Congrats to Willow Smith for killing two (potentially awkward) birds with one stone and announcing to both her mother and her grandmother that she is polyamorous. Turns out, mom and Gammy are — mostly, tentatively — on board with it now that they understand what polyamory is. Everybody wins, wonderful.
Smith, 20, shared her news during Wednesday's installment of "Red Table Talk," the Facebook Live show she cohosts with Jada Pinkett Smith (her mom) and Adrienne Banfield-Norris (her maternal grandmother). Emphasizing that polyamory does NOT mean she's having a bunch more sex with a bunch of different people, Smith explained that she sees this approach as a natural way to have one's needs met without relying solely on one person.
"With polyamory, I feel like the main foundation is the freedom to be able to create a relationship style that works for you and not just stepping into monogamy because that's what everyone around you says is the right thing to do," she said. "So, I was like, How can I structure the way that I approach relationships with that in mind? Also, doing research into polyamory, the main reasons why monogamous relationships — or why marriage, why divorces happen — is infidelity."
Also, as HuffPost points out, Smith has previously expressed an interest in "polyfidelitous" relationships in the past, so probably none of this is a surprise. But as you may recall, Pinkett Smith brought herself to the Red Table last year to do some "healing" around the subject of her extramarital "entanglement" with R&B singer August Alsina. (Her husband, Will Smith, said that "relationship" would've been a more correct label.) Pinkett Smith is open to her daughter's relationship attitudes: "When you were like, 'Hey, this is my get down', I was like, 'I totally get it,'" she told Smith. "Wanting to set up your life in a way that you can have what it is that you want, I think anything goes as long as the intentions are clear. You know what I mean?"
Gammy, however, needed a little more convincing, as a person who "enjoy[s] being married" and has "been married several times" and just wants to clarify that monogamy works for some people, which all three women agreed is true. But ultimately, Banfield-Norris admitted that she had "talked about polyamory" with her current husband, Rodney Norris. So. Seems like everyone gets it!