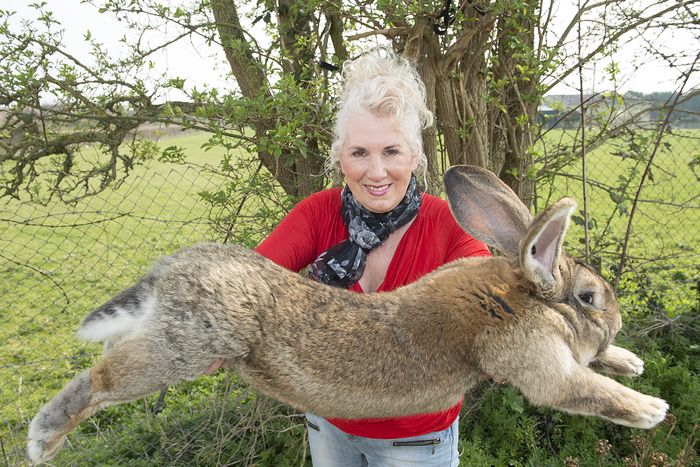 A robust lad.
Photo: Damien McFadden/ANL/Shutterstock
Emergency! A large and lovely boy, a prize beefcake crowned the world's longest rabbit, has gone missing in Stoulton, England. Given his impressive size — 50 pounds and four-feet-two-inches all stretched out — it seems inconceivable that Darius could simply disappear, and his owner, Annette Edwards, suspects there's a more sinister explanation for his absence from her garden.
"A very sad day. Guinness world record Darius has been stolen from his home," Edwards said in a tweet on April 11. "Darius is too old to breed now. So please bring him back."
Local police are "appealing for information" about the "award-winning rabbit," believing that he was abducted from his enclosure on Saturday night. "The rabbit is quite unique in the fact it is 4ft in size and has been awarded a Guinness Record for being the biggest rabbit in the world," the West Mercia Police department explained in a release, nodding to a possible motive for theft of this gentle Continental Giant. He is, Edwards told the Telegraph, "a very lovable character" and something of a celeb. He has held his long-lad title since 2010, and, according to the New York Times, was insured for $1.6 million. When he still did public appearances, he apparently traveled with a bodyguard, but now he is retired from both breeding and the events circuit. According to Edwards, Darius is "an old man" who "can be a bit grumpy" but "hasn't lost his sparkle."
Edwards is offering a £1,000 ($1,373.94) reward for Darius, whose advanced age (undisclosed) apparently requires a special diet, without which he will die — yes, die. So to any giant-rabbit thieves who may be reading this, Edwards has promised not to ask any questions provided her robust bun comes back safe.