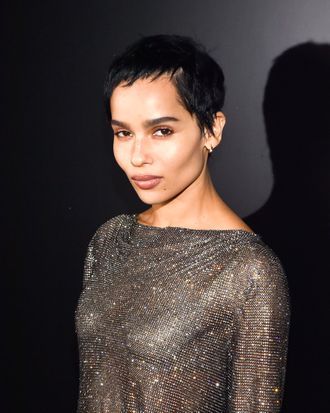 More info, I beg!
Photo: Stephane Cardinale - Corbis/Corbis via Getty Images
It looks as though we may — may! — have a Hot New Couple Alert coming down the pipe, although I feel it is my duty to hedge this with a disclaimer: There is still so much we simply do not know. However! It has come to my attention via Jezebel that something appears to be brewing between actors Zoë Kravitz and Taylour Paige. Friendship? Flirtation? Romance? Some combo thereof? Before you get your hopes all the way up, I would like to emphasize that the information we have so far is vague. Speculative, even. But also potentially promising? Let us assess.
On Saturday, Kravitz posted a selfie of her and Paige — a star of Ma Rainey's Black Bottom and the much-anticipated Zola — with their faces mashed together, absolutely beaming. "So…this is a thing," Kravitz captioned the photo, tagging Paige and adding a heart-eye emoji for emphasis. Hm!
Kravitz, it bears noting, became single in December, when she filed for divorce from her husband of 1.5 years, Karl Glusman. Pretty immediately, rumors began circulating that Kravitz had started dating Channing Tatum, although sources insisted the pair were just working together. But Paige was linked to Jesse Williams as recently as February, when GQ published an interview with them as part of its "Modern Love" edition. My Googling has not surfaced reports of a breakup, but again … hm!!
Autostraddle points out that Williams and Paige have not been posting about one another very much lately, though I am not convinced that means anything. Kravitz, meanwhile, has been active in Paige's comments, posting flames emojis on one of her hot pics and writing "YES PLEASE AND THANK YOU" below a post captioned "I'll take care of you if you want me to." Maybe it is also relevant that both women shared the same meme about being sleepy to their Instagram stories over the weekend? I don't know. Potentially it is as relevant as any other piece of the social-media-based "evidence" that has accumulated so far. Autostraddle, at least, seems to be leaning toward a Kravitz–Paige coupling, which I want to believe. They would make an intimidatingly beautiful pair and just look how happy!
For now, I will wait patiently in the hope that Kravitz may one day elaborate, although I understand that privacy is important and I don't want to pry. But … stunning, literally stunning, if true.