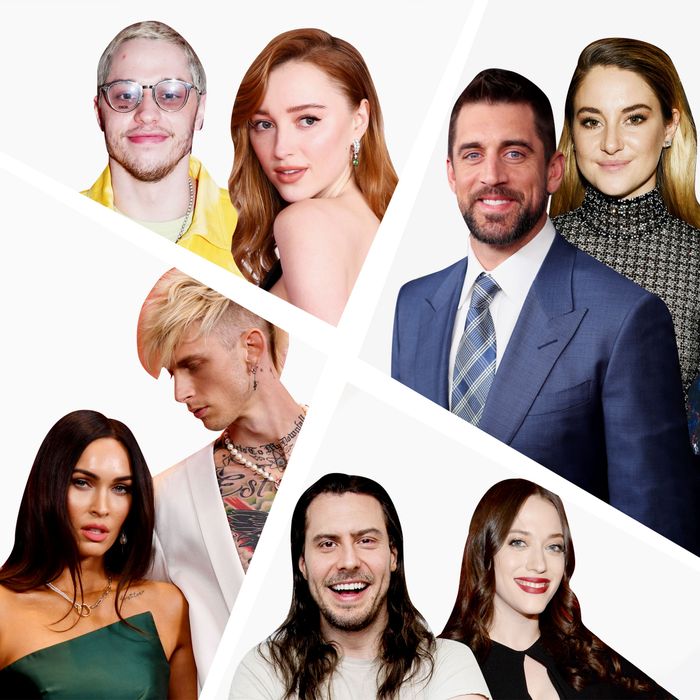 Clockwise from top left: Pete Davidson and Phoebe Dynevor; Aaron Rodgers and Shailene Woodley; Andrew W.K. and Kat Dennings; Megan Fox and Machine Gun Kelly.
Photo-Illustration: by The Cut; Photos: Getty Images
I'm calling it now: This will be the summer of unexpected love. Perhaps it's because we're all desperate for human contact, or maybe, as my colleague Taylor Roberts put it, Megan Fox and Machine Gun Kelly opened a portal we cannot close, but there have been some celeb couplings as of late that made me go, Huh … okay.
This is not to cast aspersions on any couple. Love is love is love, etc. It's simply to acknowledge the very specific kind of feeling — part joy, part wonder — that comes with finding out about an unexpected celebrity pairing. I felt it when I learned Zooey Deschanel is dating a Property Brother. I felt it once again when learning the two met while filming an episode of Carpool Karaoke. When Macaulay Culkin and Brenda Song welcomed their first baby in April, I was gleeful with the reminder that London thee Tipton and the kid from Home Alone are married. It's why I get a little dopamine hit thinking about the possibility of newly single A-Rod courting recent divorcée Melinda Gates. (I know, I know, but what if it did happen?)
So join me on this journey of discovery, awe, and wonder, thinking about celebrities holding hands with other celebrities.
Shailene Woodley and Aaron Rodgers
Where were you when you found out actress Shailene Woodley and Green Bay Packers quarterback Aaron Rodgers are not only dating but engaged? I gasped a little just writing that. As Woodley said during a Tonight Show appearance, "I never thought I'd be engaged to someone who throws balls for a living." Neither did I! But I am a fan of the concept.
Kourtney Kardashian and Travis Barker
Did I ever expect a member of Blink-182 to date a Kardashian? No. Would I have dreamed of the two sharing finger-sucking videos on Instagram? Also, no! The couple even went to a UFC fight in Vegas with Megan Fox and MGK — a chaotic double dream date!
Phoebe Dynevor and Pete Davidson
Pete Davidson is the king of unexpected couplings. First, Ariana. Then, Kate Beckinsale. Now, the comedian and SNL cast member appears to be dating Daphne Bridgerton. How did they even meet? Inquiring minds want to know. There's a lot to love about this pairing: the image of Davidson romping around Manchester, the fact that the two have the same initials which they apparently wear on matching necklaces, the idea of Davidson having a cameo on season two of Bridgerton. Put the tall boy in period clothing!
Katie Holmes and Emilio Vitolo Jr.
Though the couple may currently be giving each other some space, the idea of the actress dating a pasta mogul is *chef's kiss*.
Taika Waititi and Rita Ora
Rumors have recently circulated about the actor-director and singer possibly being A Thing. However, Waititi has never publicly confirmed his alleged separation from wife Chelsea Winstanley, who produced What We Do in the Shadows and Jojo Rabbit. Regardless, I wonder what he and Rita Ora talk about.
Kat Dennings and Andrew W. K.
A recent Instagram post from the actress appears to confirm she is dating musician and the self-proclaimed God of Partying Andrew W.K. They are the alt-couple we all deserve.
Salma Hayek and Her Owl
Initially a gift for her husband — to which he said no thank you — the actress now shares a "special bond" with an owl named Kerig. They snuggle! They watch TV on an iPad! They drink wine together! Name a more iconic duo.