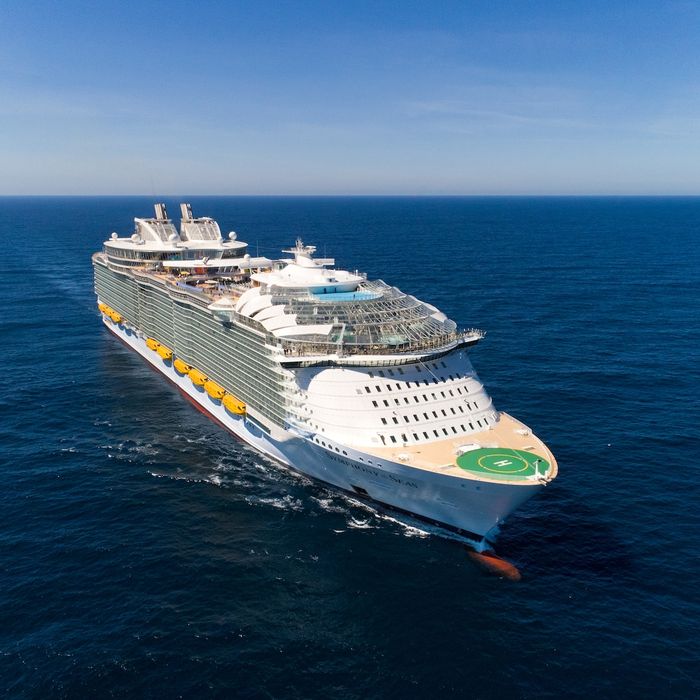 A different Royal Caribbean cruise ship (the
Symphony of the Sea
).
Photo: Andia/Universal Images Group via Getty Images
Every time I have read a headline about cruise ships for the past 15 months, the same thought has flashed through my tired brain: Surely this one will be enough? The cruises will cool it now? Because every time, the substance of the article that follows reads roughly the same way: Cruise company decides it is time to set sail once again; coronavirus outbreak ensues. It has been this way since the early stages of the pandemic, when cruise ships emerged as floating hotspots of viral spread pinging from port to port. The conditions onboard these giant petri dishes — usually crowded, close, largely communal — just seem overripe for the transmission of a highly contagious pathogen, and if you require more evidence in support of that theory, then consider Royal Caribbean's Odyssey of the Seas. Who is she, you ask? A brand-new vessel currently weathering a spate of coronavirus infections, despite the fact that her hordes of passengers have not yet descended.
On Monday, USA Today reported that five asymptomatic crew members disembarked in Mallorca, Spain, after four tested positive for COVID-19 and another returned inconclusive results. This is an admittedly small portion of the 1,400-person crew, but it is a portion nonetheless. Royal Caribbean said in a statement that all five people "immediately quarantined," and that testing will be ongoing throughout the vessel's trip to the U.S. Once the ship arrives here, any crew members who have not yet received their vaccines — a group that includes … most of the staff, per USA Today, and all five of the quarantining people — will get their shots. A spokesperson told the outlet that the entire crew, every last person, will be required to be fully vaccinated.
As for the passengers, Royal Caribbean chief executive Richard Fain told the BBC that "we expect all of our guests who are eligible for a vaccine to have it." But Fain does not anticipate the cruise line making people document their inoculation status with a vaccine passport or anything like that. "We've actually surveyed our guests and the vast bulk of the people that have booked our cruises have already been vaccinated, and they're volunteering it, they want it," he said. "And people want a place where they can go where they know they're safe." According to the BBC, Royal Caribbean has also ferried 150,000 passengers across the high seas during the pandemic, and reported just 21 coronavirus cases — a figure that strikes me as suspiciously low, but anyway.
As Jalopnik points out, the U.S. supplies nearly half of all global cruise passengers. Right now, just under 40 percent of Americans have received both shots, with daily vaccination rates falling in recent weeks. While it is true that, nationally, the new case count has not been as low as it currently is — fewer than 30,000 infections added daily — since last June, it is also true that when you remove the vaxxed population from the equation, "the virus continues to rage among those who haven't received a shot," per analysis by the Washington Post. Although the Centers for Disease Control and Prevention is working with cruise lines to get them back in business by mid-summer, it "acknowledges that it is not possible for cruising to be a zero-risk activity for spread of Covid-19," even with the recommended 98 percent of crew and 95 percent of passengers vaccinated. Personally, I liked the agency's previous "all people [should] avoid" cruise ships, full stop, policy from a few months back. Maybe let's stick with that?