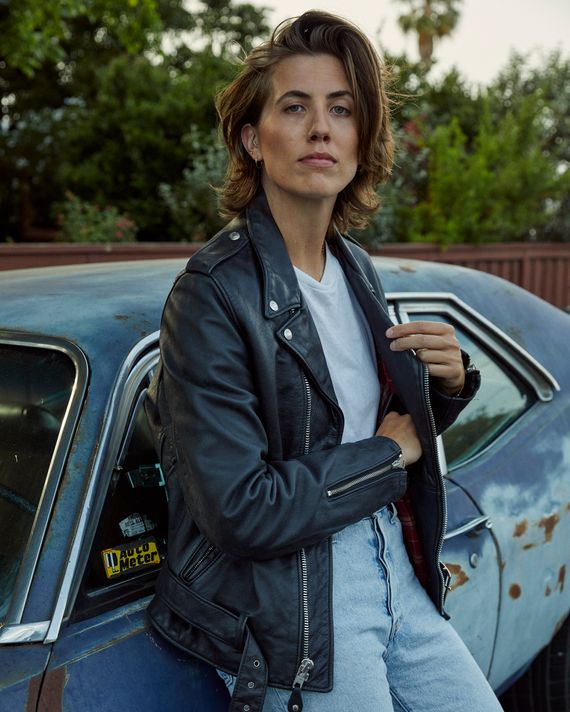 Illustration: Magdalena Wosinka
When I meet E.R. Fightmaster over a video call, we're both coping with springtime growing pains. The comedian, writer, and actor warns me of ambient noise as they smile broadly, all white teeth and lean jawbone, very "genderless Gap ad," to quote their various social-media handles. (On Instagram and on our call, their clothes are bright, simple, bold: A genderless Gap ad would be lucky to have such ensembles.) We get silent to hear the perpetual whirring in the background, the collective sound of heavy-duty gardening. Meanwhile, my local spring sunshine is so vicious, I must shrink in the only corner of the room where I won't be blinded. "I don't know if you can tell, but I'm hiding," I explain my stance. "I can absolutely tell, but you're doing a great job," they assure me. There's a light teasing to their reassurance and a touch of sharpness I expected.
While we talk, they're sitting in their jungly Los Angeles home among so many plants, even an embroidery of a plant, and a mirror to make the plants seem more plentiful, and though they're sitting still, there's a sense of perpetual movement. From their work, I know E.R. Fightmaster's humor has a smart-ass speed that's almost kept at bay but seems to sneak out despite themselves. They play up their Gemini star placement, and with no pejorative tone, describe themselves as "toxic." This just-tamed troublemaker streak glows in Fightmaster's role in the new, final season of Shrill, which Fightmaster joined after a respectable run touring and performing with Chicago's Second City improv troupe. On Shrill, they return as Emily, a suitor for fan-favorite roommate Fran (Lolly Adefope). Emily and Fran's queer love story adds to Shrill's pantheon of thoughtful, warm identity representation. Fightmaster confirms: "At no point in the show do I lose this joyful awareness that we're making something really positive and really queer and really joyful." It's heartening to hear that the good heart of Shrill is vérité, as watching the show imparts an elation like seeing people who are truly crushing on each other.
Fightmaster emphasizes the deep gratification they feel about playing a swooning, classic love interest on the show. If you're not familiar, any crush of Fran's would need to be hilarious, sharp, and very good at the lost art of hanging. Fightmaster's character's proclamation of affection at the end of season two (yelping "I fucked it up!" when they sorta knew they hadn't) was as charming as crush proclamations come. "And I'm so truly gay in real life that," Fightmaster laughs, "I know that our relationship in the series comes off as authentically queer."
And while they assiduously court authenticity as much as the next person, their newest dream (or latest whimsical fancy, more like) is a little more abstract. Because accurate portrayal of queer love is crucial and necessary and gratifying and all that — but what about some inventive gender frivolity? "A thing I've been thinking about, too often, is I want to play a gentleman from the 1920s. I'm a big history buff" — Fightmaster's cadence hastens at this point, a fun warning that we're about to go deep — "and I'm reading books from that era: Oh, the glamour! But I want to do it in a format where the whole show is genderless. We just get to have the outfits."
In rigorous history-buff fashion, Fightmaster reads by theme or time period. "I'm a Gemini and, once again, a toxic person, and I really can get excited about anything," they explain, "for no reason at all, I will just go off about all the things I know." Right now, they're wading deep in 1920s Florida history and they hold up books like a flamboyant professor in office hours. "You really do start to see this dyke representation of this time where women paid to have a photograph taken of them in the suit. That level of extreme cool, to me, is unmatched." "Would that be you?" I ask. There's no pause: "I'm so toxic I would have a portrait done every week. If I was in that time period, I would have invented the selfie."
Now, Fightmaster bemoans their recent lackluster selfies — not up to gentleman-dyke-dandy standards at all. They've mostly been tracking muscle changes from new quarantine workouts. They tell me they vowed not to talk about fitness in our call — "I'm a little fitness freak" — but they bring it up quite quickly. "I'm a woman and queer-strength supremacist. Not only do I believe we are naturally and mentally stronger, I believe it's our duty to help each other get stronger. I think my attitude towards fitness is contagious because my friends have been asking for workout plans," they say with the lifelong bravado of a high-school and college athlete.
So Fightmaster has been training their friends since July and also frightening these same friends with their own vindictive tennis ambitions. They try to reel it in on the court, but they say that holding back only works for so long with them. "It's me playing really tame for a few points, and then hitting an overhead shot so hard it hurts someone's feelings." I admire tennis for seeming wholesome and buttoned-up, when it's actually really bitchy. "It is so bitchy!" they exclaim. "It's so bitchy because you're facing your opponent. And when this is the only social activity you do and you want to get better at it, it becomes even bitchier, which I personally thrive on."  
Flip and snippy exchanges, for Fightmaster, are a sign of intimacy among friends, tennis opponents, and creative collaborators alike. In addition to acting, they're in a band called Twin (tagline: "It's always Gemini season"). Fightmaster started Twin in a Silver Lake garage in 2019 with Mike Aviles, their comedian friend from Chicago, who adds a grounding drum to the band's punchy, rascally sound. Aviles is not actually a Gemini, but Fightmaster says "a Leo will typically do whatever a Gemini says, so that's how we got the name Twin." More genuinely, the band's name comes from a feeling of making art with other people, which they thought a lot about on the set of Shrill for the show's final season. "When you are making art with someone, you often combine. Creating something with someone is unmatched," they say. "There's so much ego that goes into creating and so much sensitivity, more importantly." Twin is currently recording a new album, a series of vignettes all "with the feeling of summer in mind," Fightmaster says. "Summer is coming, and this is a celebration that we might be free again for it."
So, how is Fightmaster thinking about their life when they emerge? Jockish tennis pro, history professor, mischievous love interest, gentleman dandy? "First of all, my little vain ass, I've always been a gentleman dandy from the 1920s. The wardrobe is fresh, especially in quarantine; it's actually disgusting." But Fightmaster's aspiration is more earnest. "I do look at periods in my life when it was so much fun to be sardonic and now, I'm actually like, NAH. Life is hard enough, and I want everyone to know that I love them, I want everyone to know that I'm having a nice time. This is my goal: When people leave a conversation with me, I want them to think, What a kind lovely person, I really felt connected to them, and DONE." The way they say done, with such an emphatic punctuation, sounds exactly like the "shot so hard it hurts someone's feelings," but you can't help but feel won over by it.