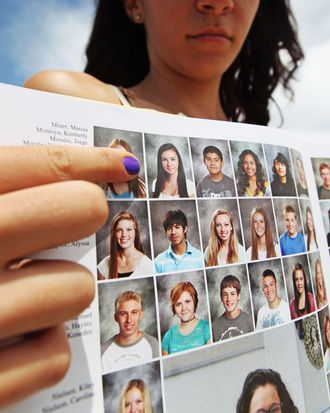 Photo: Rick Bowmer/AP/Shutterstock
Bartram Trail High School in St. Johns County, Florida, has long faced criticism for its strict dress-code policy, which parents and students say is enforced inconsistently and unfairly against female students. Earlier this year, the school made headlines after administrators issued 31 citations for infractions of the policy in a single day. Some of the girls were asked to lift their arms to see if their shirts raised to expose their stomach; one student told a local outlet that a male teacher instructed her to remove her zip-up jacket in front of other staff and students because he seemingly considered her sports bra to be in violation of the school's code.
Now the school is facing sharp criticism for Photoshopping yearbook portraits of female students. The New York Times reports that in the school's yearbook from the past term, the photos of at least 80 female students had been conspicuously and clumsily edited to conceal their chests and shoulders. Meanwhile, parents say that no photos of male students were digitally altered.
"They need to recognize that it's making girls feel ashamed of their bodies," Riley O'Keefe, a ninth grader at the school who had a big black bar pasted on top of her chest in her portrait, told the Times. Her stepmother added, "They're all good students, and we're going to focus on whether you have too much shoulder showing? It's out of control."
Under the school's dress-code policy, female students' shirts "must be modest and not revealing or distracting" and conceal the "entire shoulder." Additionally, girls are prohibited from wearing shorts or skirts that are more than four inches above the knee. While school administrators did not respond to the Times' requests for comment, district spokeswoman Christina Langston told the St. Augustine Record that the school's yearbook coordinator made the edits because the students were "deemed in violation of the student code of conduct."
Now parents and students' outrage has mounted. While the school is offering refunds and "receiving feedback from parents/guardians/students on making this process better for next year," Langston told the Record, some parents are demanding the school reprint the yearbook without digitally altered photos.
"My daughter has been hospitalized twice this school year due to the stress and pressure this past year has brought upon her, including body image issues, which she is still seeking regular treatment for," Adrian Bartlett, whose daughter's photo was edited, said in an email to the Record. "And now, the school has made a decision that is now drawing attention to her body in a negative way. It sends the message that our young girls should be ashamed of their naturally growing bodies."