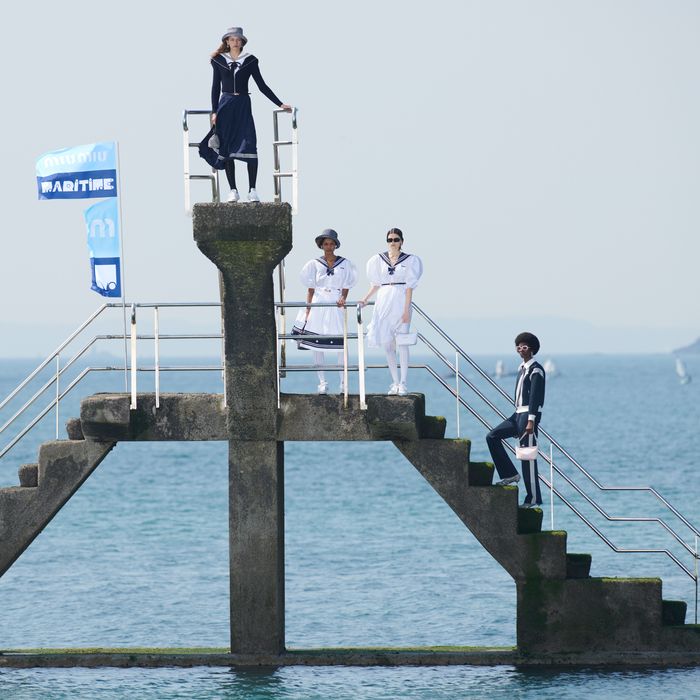 I have two goals for this summer: to get sexier and to be extremely gay. And as far as I can tell, the universe seems willing to help. Just last week, I strolled into a vintage shop in Brooklyn full of little silk slip dresses and sheer nightgowns. Those would certainly progress the whole "get sexier" thing, but I was drawn to an item that would help me be even more gay: a cherry-red sailor shirt with a flap collar. Because what is gayer than the Navy?
It all felt especially serendipitous since I've been listening to "Anything Goes," from the 1934 Cole Porter musical set on an ocean liner. The perfect song for New York's post-vaccine summer, it's an ode to doing whatever you feel like. And maybe I feel like dressing like a sailor — but I wouldn't want to be too literal about it.
That's why I was drawn to Miu Miu's new Maritime collection, which takes classic naval looks and makes them more modern. In the collection, traditionally masculine elements of naval dressing — like flap collars, wide shoulders, a general vibe of utility — are made feminine. Think softly rounded sleeves, lace detailing, ruffles, and bows. But the one piece that's both wearable for everyday (and also very femme sailor) is an oversize cotton jersey T-shirt complete with a navy flap collar and a little bow.
"Maritime speaks of possibilities — the commencement of a journey," the brand said in a statement. "The coastline is not the end of the land, but rather marks the start of something new." Sounds like anything goes to me!