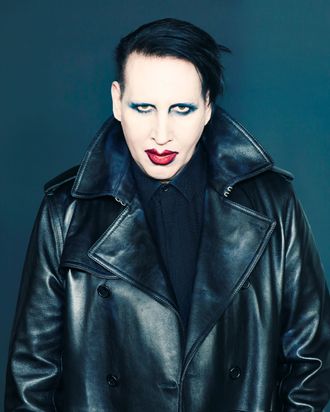 Marilyn Manson
Photo: Kurt Krieger/Corbis via Getty Images
A warrant is out for Marilyn Manson's arrest, the New York Times reports. According to a statement from the Gilford Police Department, New Hampshire authorities are actively seeking the singer, who allegedly assaulted a videographer during a concert at the Bank of New Hampshire Pavilion in August 2019. Manson is charged with two misdemeanor counts of simple assault.
While the warrant was issued in October 2019, the Gilford Police Department decided to make it public last night "because we've been attempting to clear the warrant since it was issued," chief Anthony J. Bean Burpee told the Times. According to a statement posted to the department's Facebook page, Manson, as well as his agent and legal counsel, have long been aware of the warrant's existence but have made "no effort" to return to New Hampshire to respond to the pending charges. Burpee added that "in light of recent other allegations," the department is prioritizing the case so that "he and we can move forward." (In New Hampshire, a class-A misdemeanor can carry a jail sentence of less than one year and a fine of up to $2,000.)
The recent allegations to which Burpee was referring come from numerous women who have accused the singer of rape, psychological and sexual abuse, and manipulation. The first woman to come forward was actress Evan Rachel Wood, who in February accused the singer of grooming her as a teenager and "horrifically" abusing her; eventually, more than a dozen women would follow with similar allegations. In April, actress Esmé Bianco — who told the Cut that Manson whipped and electrocuted her over the course of their two-year relationship — sued Manson for rape and battery. Manson's former assistant Ashley Walters also filed a lawsuit against the singer, accusing him of sexual assault, battery, and harassment.
Manson, who is currently under investigation for domestic violence in Los Angeles, has categorically denied the accusations, calling them "horrible distortions of reality." Through his attorney, he is also attempting to downplay the allegation that he assaulted a videographer. "It is no secret to anyone who has attended a Marilyn Manson concert that he likes to be provocative on stage, especially in front of a camera," said attorney Howard King, who claims Manson's team took steps to address the warrant, in a statement to Pitchfork. "After we asked for evidence of any alleged damages, we never received a reply. This whole claim is ludicrous, but we remain committed to cooperating with authorities, as we have done throughout."