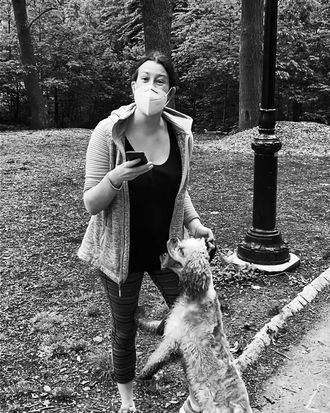 A screenshot of Cooper from the viral video last summer.
Photo: Christian Cooper
Unfortunately, there is an update to the never-ending saga that is Amy Cooper, a.k.a. the woman who called the police on a Black bird-watcher in Central Park last summer. Cooper, who was fired after a video of her calling the police on Christian Cooper (no relation) went viral, is now suing her former employer over her termination, accusing the company of racial and gender discrimination.
The lawsuit against Cooper's former employer, investment firm Franklin Templeton, claims the company "performed no investigation" into her termination and alleges that her firing falsely labeled her a racist. Hmm, interesting claim from someone who was filmed filing a false police report and threatening that she would say, "There's an African American man threatening my life."
People were understandably outraged by the video, in which Amy Cooper appears to deliberately weaponize Christian Cooper's race against him. "At a time when the devastating impacts of racism in Black communities have been made so painfully clear … it is appalling to see these types of ugly threats directed at one New Yorker by another," said Sapna V. Raj, deputy commissioner of the Law Enforcement Bureau at the NYC Commission on Human Rights, per ABC News. "Efforts to intimidate Black people by threatening to call law enforcement draw on a long, violent, and painful history, and they are unacceptable."
Per the Washington Post, Amy Cooper's lawsuit goes on to say, "Franklin Templeton's alleged investigation and results provided legitimacy to the 'Karen' story, and appeared to provide justification for those who sought the destruction of the Plaintiff's life." The suit also makes a point to note that Cooper was an "exceptional employee" who earned "high-performer bonuses."
Last summer, Cooper did tell CNN that she wanted to "publicly apologize to everyone" for the incident and that she "did not mean to harm [Christian Cooper] in any way." However, she also prefaced her apology by saying, "I am not a racist." In the new suit, Cooper doubled down on her claim that her behavior was not motivated by racism. Rather, she says she called the police on Christian Cooper "because she was alone in the park and frightened to death after being selected as the next target of Christian Cooper, an overzealous bird-watcher engaged in Central Park's ongoing feud between bird-watchers and dog owners." The video appears to counter this claim, as it's clear Amy approaches Christian after he asks her to leash her dog, per the park's policy. She continues to yell at him — Christian mostly remains quiet — and, eventually, backs away to call the police. At the end of the minute-long video, Amy finally leashes her dog and Christian says, "Thank you."
Amy Cooper is suing Franklin Templeton for "lost wages, emotional distress, attorneys fees, and punitive damages, among others." Cooper claims she "suffered substantial loss of earnings and benefits and endured severe emotional distress, and will continue to do so in the future." In response to the lawsuit, a spokesperson for Franklin Templeton told the Post, "We believe the circumstances of the situation speak for themselves." The statement also noted the company believes it "responded appropriately" by firing Cooper.
After the Central Park incident on May 25, 2020 — the same day George Floyd was murdered — the Manhattan district attorney's office charged Cooper with filing a false police report. A few months later, a second 911 call resurfaced in which Amy Cooper falsely claimed Christian Cooper "tried to assault her." However, in February 2021, all charges against Cooper were dropped upon her completion of therapeutic and educational programs on racial prejudice. The Manhattan district attorney's office said the "restorative-justice resolution" was offered in part due to Cooper's lack of a criminal record.
When asked about the dropped charges, Christian Cooper told the New York Times, "I am far more outraged by the U.S. Congress, which continues to deny the mostly Black and brown people of the District of Columbia statehood, and the representation every American deserves, than by anything Amy Cooper did." Christian Cooper declined to participate in the DA's investigation. As he explained in an op-ed for the Post, "I believe in punishments that are commensurate with the wrongdoing," clarifying he'd be satisfied if Cooper completed anti-bias training or community service.
"Considering that Amy Cooper has already lost her job and her reputation, it's hard to see what is to be gained by a criminal charge, aside from the upholding of principle," he also wrote. "If her current setbacks aren't deterrent enough to others seeking to weaponize race, it's unlikely the threat of legal action would change that."