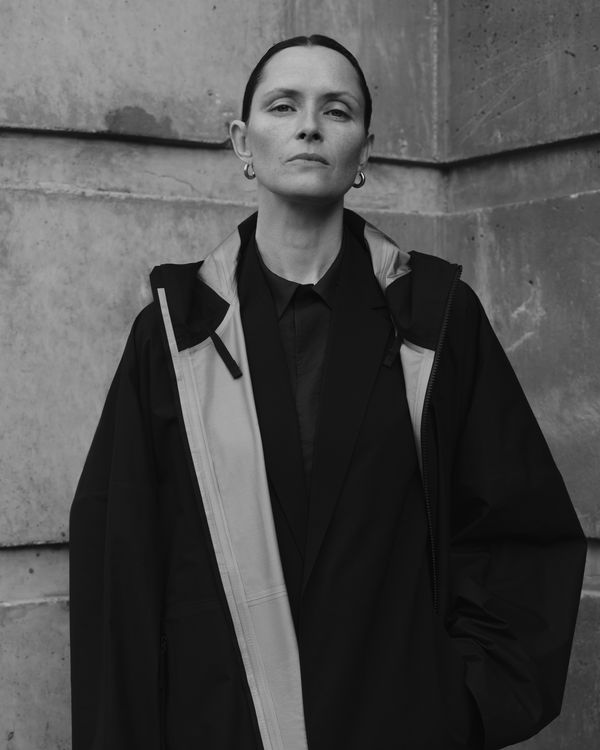 Photo: Courtesy of Arc'teryx Veilance
Every year, the changing of the seasons brings new growth and the circulation of a certain Arc'teryx meme. It goes something like this: "That's him, officer! That's the person pretending to enjoy hiking so they can wear an Arc'teryx jacket!" A stern pointed finger indicates that you, the receiver, are guilty of such a crime.
I was sent this meme several times in 2020. Like a lot of us, I became more of an "outdoors person" during the pandemic — or at least I started dressing like one. Instead of splurging on the usual office-friendly items, I bought myself a Montbell fanny pack. I invested in Salomon sneakers. I expanded my Patagonia Baggies shorts collection. I also got really, really into Arc'teryx.
If you aren't familiar with the brand, Arc'teryx is basically the Hermès of outdoor gear. Founded in Vancouver in 1989 as a brand for climbers, it's grown over time to become the go-to for extremely well-made clothes and accessories as well. The word "technical" is used a lot in reference to its stuff, and I only fully understood what that meant when I finally put it to the test. My Arc'teryx raincoat, for example, is so waterproof that all I have to do is shake like I'm undergoing an exorcism, and then I'm dry. It's also magically lightweight, and folds up neatly into itself. Wearing it makes me feel like a sleek, powerful jet plane immune to the elements.
So it follows that fashion-y people who appreciate quality and craftsmanship (and who like to spend a lot of money on such things), are fans of the brand. My friends who obsess over nice wine and good food also just so happen to all own Arc'terx shell jackets, if that tells you anything. Virgil Abloh recently styled the Hadids in Arc'teryx shell jackets for his fall 2020 Off-White show, further solidifying the existence of "gorpcore," or the trend of wearing outdoor gear as a fashion statement.
True Arc'teryx fans know that the fashion version of the brand already exists, though, and you don't need to leave the store to get it. It's called Veilance, and it's a special in-house line launched in 2009 by creative director Taka Kasuga (previously a designer for Junya Watanabe of Comme des Garçons.) It offers sleek, chic, highly functional everyday clothes that aren't flashy or logo-heavy. You can get a super-lightweight black Arc'teryx Veilance blazer, for example, and wear it to the office instead of the Adirondacks.
Until now, Arc'teryx's Veilance line only existed for men — a tragedy for me, personally. (Although a godsend for my bank account.) Because so much of its desirability is in its precise tailoring, it didn't really work as a unisex option. But today, the brand announced that it will be debuting its first-ever women's collection this September. Hooray!
"I've been pushing for a Veilance women's collection since I first joined Arc'teryx in 2015, and began seriously planning for the line about three years ago," Kasuga told the Cut in an email. "I realized that the high functional intelligence of Arc'teryx had relevance beyond the extremes of the outdoor environment; Veilance was born to bring this innovative spirit to the city. Women need clothing that is lightweight and breathable, while keeping them dry and warm. We wanted a women's line that performs to the highest standards, but is going to look modern and beautiful, and work with what women wear every day."
In advance of the fall launch, Arc'teryx released four Veliance spring/summer staple pieces that will be available exclusively at the brand's Soho store starting today. The capsule includes a rain shell jacket, a technical blazer, a performance blouse, and a wide short. The jacket, of course, is Kasuga's favorite. Essentially, it's a Gore-Tex trench coat with a stylish, oversize fit that won't make you look like you're about to go on a hike, but that will protect your beautiful clothes from the rain and wind. Kasuga said he also paid extra-special attention to the shape and feel of the women's garments, using extra-soft fabrics and strong, voluminous silhouettes. So it was worth the wait.
Below, you can take an exclusive look at the Veilance women's spring/summer 2021 capsule collection for yourself.