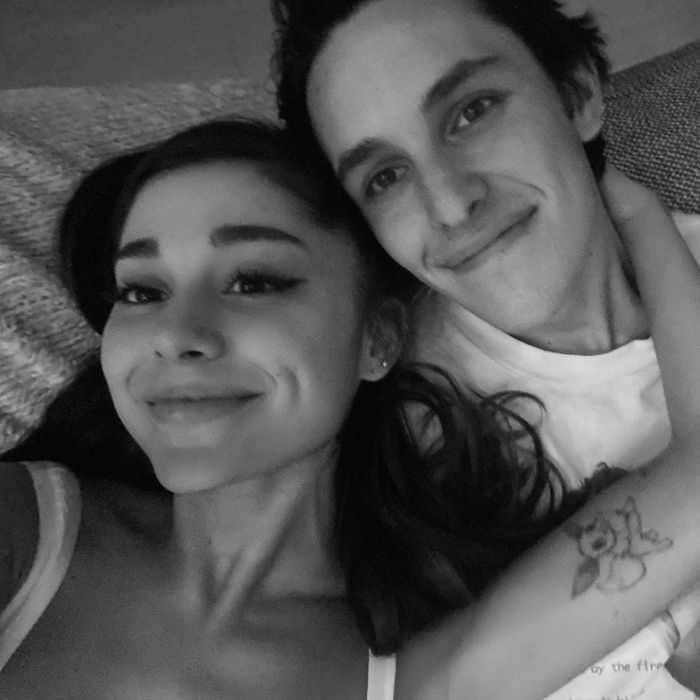 A selfie from Ariana Grande's Instagram, announcing her engagement to realtor BF Dalton Gomez.
Photo: @arianagrande/Instagram
Hats off to the celebs who are really going above and beyond to set a horny tone for the post-vaxx summer ahead. Over the past few weeks, they have given us surprise break-ups, chaotic rebounds, dramatic recouplings, gratuitous displays of PDA, and whirlwind engagements. A secret wedding feels like the natural next step in their collective journey, so many thanks to Ariana Grande for moving things right along. According to TMZ, the pop star "tied the knot this weekend" at her home in Montecito, California, "which you might also know as Oprah country." Hm. Do you?
Either way, it appears Grande and the man formerly known as her real-estate boyfriend, Dalton Gomez, are now married: Grande's rep confirmed their union to People, noting that the ceremony "was tiny and intimate — less than 20 people," and that "the room was so happy and full of love," and that "the couple and both families couldn't be happier." TMZ adds that the wedding was "informal" and "really just for them." According to the tabloid, "it's unclear how long they planned to do it this way — in other words, whether it was impulsive or not."
The couple was first seen making out in a bar circa February 2020 and seemed to be quarantining together come March. Little is known about Gomez, except that he is a realtor specializing in multimillion-dollar properties and that he reportedly has celeb friends, possibly including Miley Cyrus. The sources have said that Grande works to keep this relationship quiet, after her brief but intense relationship with Pete Davidson played out so publicly. Anyway, Gomez and Grande got engaged in December and now they are wed. Huge congrats, Mrs. and Mr. Grande!