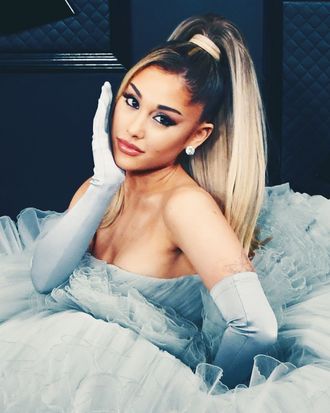 What else would you expect from someone who looks like this?
Photo: Jon Kopaloff/FilmMagic
As you've probably seen all over your news feeds, Ariana Grande recently got married to Dalton Gomez, formerly known as her real-estate boyfriend and just a regular guy. There wasn't much known about the seemingly impromptu wedding, aside from that it "was tiny and intimate" and that "the room was so happy and full of love," as a rep for Grande previously told People. Yep, sounds like a wedding to me! Now, Grande has given the people what we want: a bunch of wedding pics.
On Wednesday, Grande shared a series of photos from the wedding on Instagram, captioned with the couple's new anniversary: "5.15.21." Celebrities including Lizzo, Bella Hadid, Seth Rogen, and 2 Chainz congratulated the singer on her nuptials in the comments.
According to Vogue, Grande was styled by Vera Wang, as the designer had promised Grande she'd one day do when the two met at the Met Gala a few years ago. Per the pictures, Grande wore a classic veil and white dress with a low-cut back — both very bridal and very Ariana Grande. She wore a half-ponytail, which is understandable, as her iconic high pony is heavy and highly uncomfortable. There are also a few shots of Grande getting her makeup done and the newlyweds smooching beneath flowers suspended from the ceiling. It's all very pretty, as expected.
Grande and Gomez reportedly started dating in January 2020, before the start of quarantine. By December 2020, the two were engaged. Congratulations to Mr. and Mrs. Ariana Grande on getting married and being beautiful!