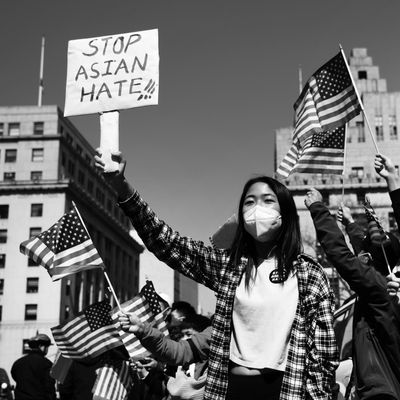 Photo: Spencer Platt/Getty Images
On Sunday night, an Asian woman was violently attacked with a hammer in Hell's Kitchen, a New York City ABC affiliate reports. According to police, the woman, 31, was walking to the subway with a friend when a stranger told them to remove their masks. The stranger then confronted them, repeatedly hitting one of the women on the head with a hammer. As of Tuesday morning, police had not yet identified the suspect.
"She was talking to herself … I thought maybe she was drunk or something, so we just wanted to pass through her quickly," the victim, identified by her first name, Theresa, told ABC7. "When I passed through her, she saw us and said 'Take off your f- - -ing mask,' which is shocking." Then, Theresa felt something hit her head.
Theresa, a recent FIT graduate, was taken to the hospital and remained stable after being treated for wounds on the front and side of her head. On Monday, the NYPD's Hate Crimes Task Force shared a graphic surveillance video of the incident, asking the public for help in identifying the suspect.
Theresa recently came back to New York after staying with her family in Taiwan during the pandemic. "My mom actually told me, 'Please be careful, there's a lot of Asian crime happening in America,'" Theresa told ABC7. She'll be returning back to Taiwan for the time being.
This was not the only attack on Asian Americans in New York over the weekend. The Hate Crimes Task Force is also investigating two separate anti-Asian attacks — one on a 52-year-old woman, the other on a 15-year-old boy — that occurred on Saturday.
According to the NYPD, reported hate crimes against Asian and Asian American people are up 400 percent from 2020. Across the U.S., a rising number of anti-Asian hate crimes have been reported, coinciding with the coronavirus pandemic. This has especially impacted Asian and Asian American women, who were more than twice as likely as Asian men to report experiencing a hate incident, per data collected by reporting center Stop AAPI Hate.
This most recent attack comes days after Fox News' Tucker Carlson urged viewers to confront people wearing a mask outside. "The next time you see someone in a mask on the sidewalk or the bike path, don't hesitate," he said, saying they should "Ask politely but firmly: 'Would you please take off your mask? Science shows there is no reason to wear it. Your mask is making me uncomfortable.'"
While the CDC has eased outdoor mask guidelines, it still recommends that people, including those who are vaccinated, wear masks in crowds. Additionally, medical experts like White House health advisor Dr. Anthony Fauci and news outlets, including Carlson's network, Fox News, have recommended people wear masks in response to mounting evidence that shows doing so helps prevent the spread of COVID-19.