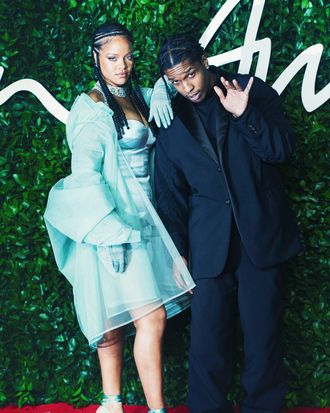 Rihanna and A$AP Rocky.
Photo: Samir Hussein/WireImage
We've long had reason to believe that A$AP Rocky and Rihanna were more than friends. In January 2020, mere weeks after Rihanna split from her billionaire boyfriend, she and A$AP apparently "shared a hotel suite." Over the ensuing months, they were occasionally seen out and about together. And then came the holiday season, when Rihanna brought A$AP back to Barbados with her, where they were spotted kissing on a luxury boat.
Now, we finally have more insight into the extent of their romance, courtesy of A$AP, who completely gushed over Rihanna in a new GQ cover story. The moment writer Samuel Hine so much as brought up Rihanna's name, A$AP — per Hine's description — began "beaming like a teenager whose crush just accepted his prom invite." And then, A$AP allowed himself to indulge that feeling. "The love of my life," he said, referring to Rihanna. "My lady."
Love! Of! My! Life! What a touching, open-hearted declaration from the rapper, who is, as Hine notes, "among our culture's most unabashed ladies' men." But Rihanna, obviously, is well worth giving up singledom for. When asked what it's like to be in a relationship, A$AP replied: "So much better when you got the One. She amounts to probably, like, a million of the other ones … I think when you know, you know. She's the One."
So happy to hear that Rihanna and A$AP have accepted that it's their fate to be together. So what's next for the couple? While A$AP didn't speak to their future, he did acknowledge that, if it's "in [his] destiny" to be a dad, he's "absolutely" ready. "I think I'd be an incredible, remarkably, overall amazing dad," he continued. "I would have a very fly child. Very."
Truly. And add to that "very hot"!!!