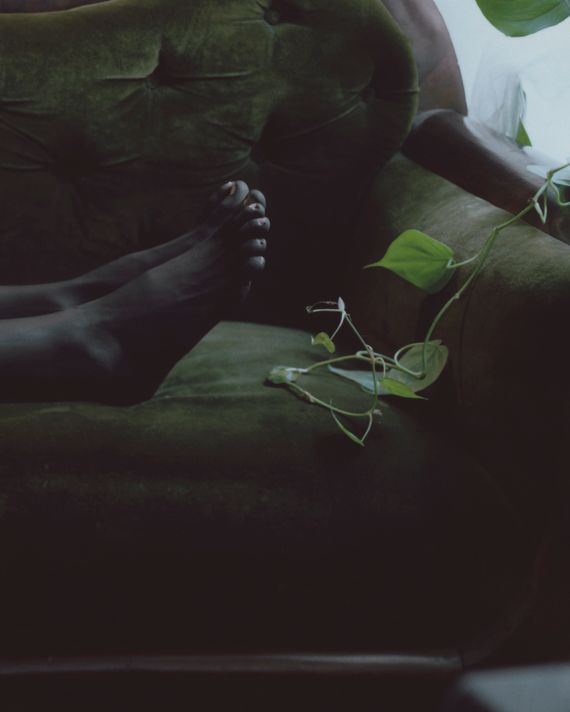 "I mean so much of history is fabrication anyway, right?" says NYC-based photographer Avion Pearce. She's explaining the story behind her latest visual project, Shadows. "I wanted to have some fun."
With a deep personal love of history, Pearce has always been inspired by the countless period films she's consumed over the years, and pretty much anything historical fiction. While doing research and making images for this series, which she describes as "pretty" and "reflective of the lost eras of Black history," she felt like the images weren't fully tied to the personal story she wanted to tell.
Similar to the precious glass displays we see in museums, filled with historical figurines, belongings, and portraits, Pearce wanted to recreate these presentations using important parts of Black queer history. She sought to create a narrative from a specific era that she felt was truly lost, so she began writing the love story of two fictional Black women set in the 1930s and 1940s.
"I couldn't think of great love stories of Black lesbians," says Pearce. "I was just thinking about how to me those histories would be so important to see and be treated in such a special way. So, I started doing all of this research on the ways museums and institutions capture these objects, create period films, and stage photos to reenact history."
After spending time in New Orleans and falling in love with the energy of the city, she knew it was the home to the two women she'd been writing about. Obsessed with the drama, theatrics, and performance that goes into telling a story and playing a character, Pearce's work went from taking pictures of random objects she would find to fully embodying the two characters in the narrative with her former partner. By recreating a love letter from the past, capturing both random and curated objects, and providing some elegant nude mirror selfies tips, she wants to bring the narrative of the Black lesbian love story out of the shadows.
"Like a shadow; it's present, but we're not really acknowledging it," says Pearce. "My intention with Shadows was to very lovingly depict this romance and moment in time. I want to see me more Black lesbian love stories. To read them and to see them in ways that are not just about tragedy and death."
Scroll below to see images from Shadows.