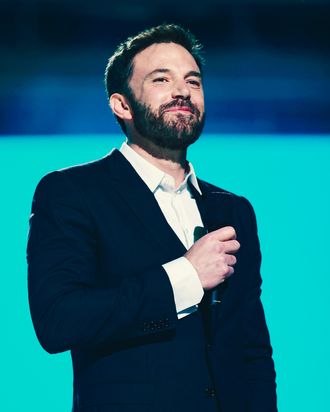 Would you unmatch with this man?
Photo: Emma McIntyre/Getty Images for Global Citizen
What to do when you get rejected on a dating app? Mope a little and move on? Keep swiping until you feel something? If you're Ben Affleck, I guess you DM the person on Instagram asking for answers. Yesterday, model and actress Nivine Jay posted a video on TikTok with the caption, "Thinking of the time I matched with Ben Affleck on Raya and thought it was fake so I unmatched him and he sent me a video on Instagram." A reasonable initial assumption, given that someone was catfishing as the actor on Raya last year. But, no. According to Jay and the Instagram message she subsequently received, it was indeed Ben Affleck.
Can you imagine unmatching with Ben Affleck? Well, Ben Affleck certainly can't. In the video, a bearded Ben asks, "Nivine, why did you unmatch me? It's me." Benjamin! Enough!! The front-facing video has the energy of an unprompted Cameo and raises more questions than the one Affleck asked. Why did he say "It's me" like that? How many times did he record this video? Why do famous men think this is a normal way to act?
Jay told E! News she didn't post the TikTok to make fun of the actor — "I was making fun of myself for thinking he was a catfish and it was just supposed to be funny." Well, joke's on all of us for missing out on armfuls of Dunkies and unlimited access to the infamous back tattoo.
Though the actor has been recently spotted with ex J.Lo, Affleck is technically single again. Perhaps he will once again be sliding into the DMs of all who unmatch with him, mumbling a quiet it's me.