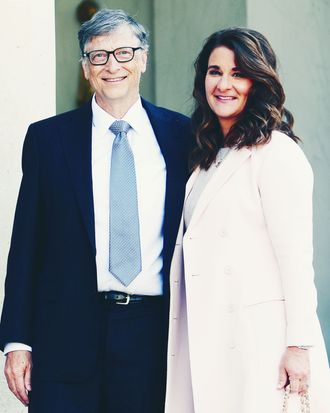 Photo: Frederic Stevens/Getty Images
Bill and Melinda Gates are ending their 27-year marriage. The Microsoft founder announced the news on Monday afternoon in a statement posted to Twitter.
"After a great deal of thought and a lot of work on our relationship, we have made the decision to end our marriage," reads the statement.
According to Forbes, Bill Gates is currently worth $130.5 billion, making him the fourth-richest person in the world. Since 2000, he and Melinda have collaborated on the Bill & Melinda Gates Foundation, a philanthropic giant that seeks to "help all people lead healthy, productive lives." As of 2019, the foundation's endowment was $2.7 billion, and it had donated over $5 billion cumulatively. According to their statement, it seems as though both Bill and Melinda intend to continue to help run the foundation. "We continue to share a belief in that mission and will continue our work together at the foundation, but we can no longer grow together as a couple in this next phase of our lives," the statement says.
No word yet on whether this means that Melinda will come out against her former husband's widely criticized stance against lifting patent protections on COVID-19 vaccines.