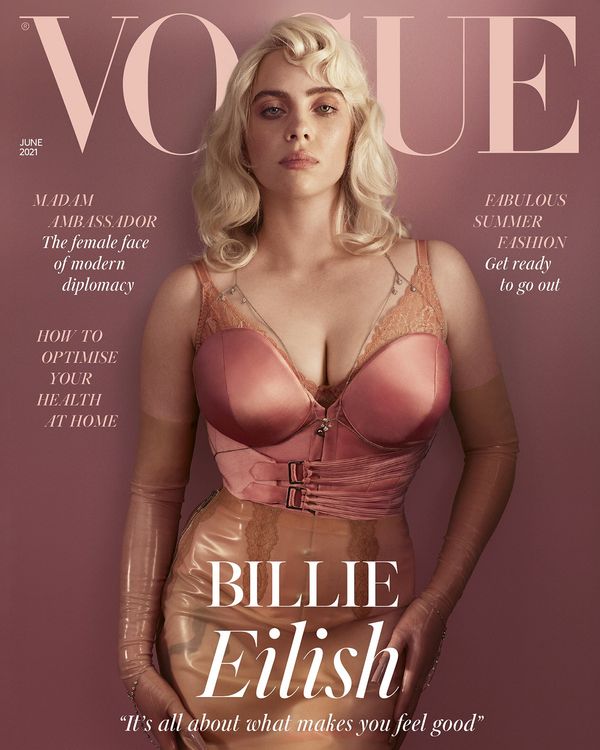 A very smart woman once said "Hair is everything," and she was right. Hair is everything. And never has a dye job seemed to get so much attention, so quickly, as when Billie Eilish revealed that she had gone back to being blonde. Her post on Instagram received a million likes in a record-breaking six minutes and became the third most-liked post on the platform, ever, within two days. Of course, the transformation also meant a lot to Billie, too. In a new interview with British Vogue, she says it made her "feel more like a woman, somehow." Her cover for the magazine — pegged to her "internet-breaking transformation" and her new single, "Your Power," which confronts abusers who exploit underage girls — reflects the 19-year-old's decision to embrace her sexuality and generally do whatever she wants, specifically what makes her feel good. At the moment, that includes wearing custom corsets by Gucci, Burberry, Alexander McQueen, and Mugler, because why not?
"It's about taking that power back, showing it off, and not taking advantage with it," Eilish told Vogue. "I'm not letting myself be owned anymore."
According to the magazine, the shoot was entirely Billie's idea. She wanted to go for a "classic, old-timey pin-up" look inspired by the American model Betty Brosmer, iconic images by fashion photographer Horst P. Horst, and the stockinged models of fetish photographer Elmer Batters. If you've been following Eilish, you know that this style is a significant pivot from her famously oversize, intensely neon signature look. "I've literally never done anything in this realm at all," she told the Vogue interviewer before the shoot. "Y'know, besides when I'm alone and shit."
Because Billie Eilish is a woman who exists in public, her image has been obsessively scrutinized and given meaning beyond her own intentions, which generally seem to be: "Fuck it." Her oversize look has been deemed an example of body positivity, among other things, which never sat well with Eilish, as her body has always been her "deepest insecurity." She also obviously rejects the idea that covering up is more laudable than not. "Showing your body and showing your skin — or not — should not take any respect away from you," she told the magazine.
"It's all about what makes you feel good," she said in conclusion. "If you want to get surgery, go get surgery. If you want to wear a dress that somebody thinks that you look too big wearing, fuck it — if you feel like you look good, you look good." And, well, that's that on that.