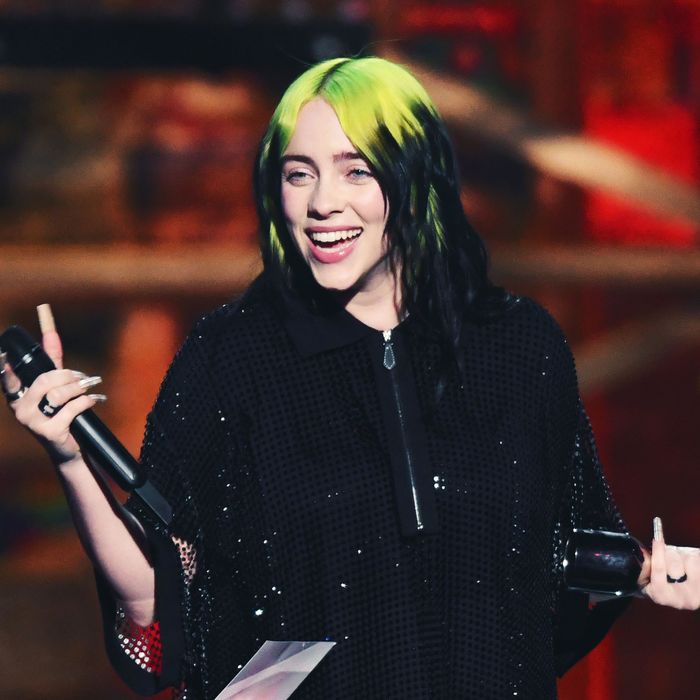 Photo: Karwai Tang/WireImage
We finally have an answer to the question that has plagued us for millennia (okay, like, two months): Has Billie Eilish been wearing a wig this whole time? During her Monday appearance on The Late Show, Eilish confirmed that yes, she was wearing a wig in her February interview on the late-night show. "I was just as blonde then as I am right now," the Grammy-winning singer told host Stephen Colbert.
Lest you think the wig was some elaborate ruse to fool the masses, she affirmed she wasn't trying to pull a Hannah Montana or play a prank on the internet. In the midst of a multi-week process to go from black to blonde, Eilish said, "I just looked f*cking crazy underneath and I needed to look not crazy."
So, what is a pop star to do when your hair looks bonkers and you've got a TV appearance? Order a wig of your own hair, of course. "I needed something quick so I literally ordered a Billie Eilish Halloween costume wig on Amazon," Eilish said. "It was awful. It was the ugliest thing I've ever seen."
The process of going blonde when your hair is dark is tumultuous, to say the least. I went blonde a couple years ago and felt full lizard-in-a-salon-chair after the first part of the process. As confirmed by screenshots of now-deleted posts from Eilish's hairstylist Lissa Renn, the singer said the process of getting her hair to her current color took about six weeks.
Eilish eventually had a wig professionally made — which may be what she wore for the Grammys and teased on TikTok — and has now embraced life as a blonde. But we'll always have the memories of the Halloween wig that confused the world.