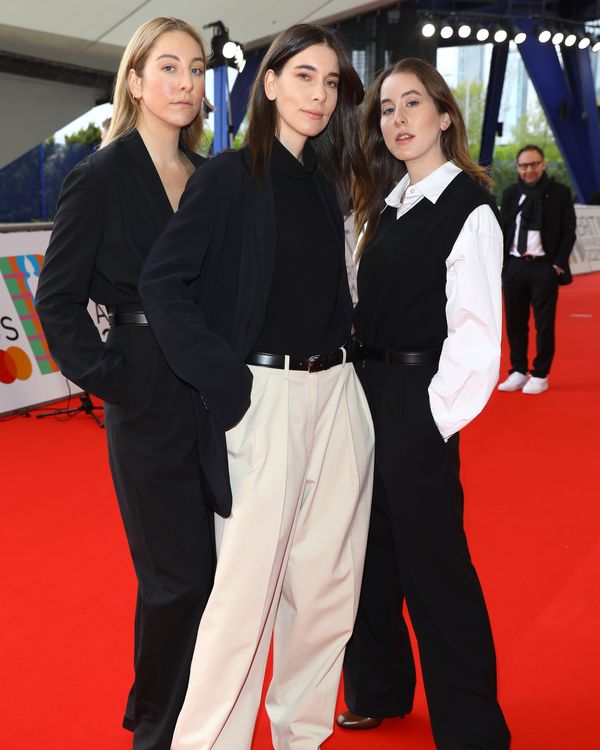 Este, Danielle, and Alana Haim.
Photo: JMEnternational for BRIT Awards/Getty Images
If, like me, you live On This Side of the Pond and did not know the BRIT Awards were a thing, perhaps now you do, because the red-carpet photos were everywhere on Tuesday and they were full of fun surprises. While scrolling through my feed, I found myself asking most urgently, Who are those three hot businesswomen who crashed the ceremony? What are they selling? And where can I buy their pants??
Turns out these three stylish-looking ladies with perfect hair are not the CEOs of an Italian suiting company or the founders of a successful Silicon Valley dry-cleaning start-up. They are, in fact, the Haim-family band, comprised of Este, Danielle, and Alana. And they are wearing The Row. Danielle (center) donned pleated khaki pants that appear to be chiseled out of a single piece of rare and majestic wood, while her sisters flanked her in a particularly luxurious shade of black. Like their fellow business-savvy siblings, Mary-Kate and Ashley Olsen, their clothes hung slightly oversize but were cinched together with thick, bosslike black belts that rested just above their hips. Altogether, they looked incredibly powerful and rich and like the Best International Group winners they turned out to be.
When it comes to the red carpet, the Haim sisters are living out my personal-style fantasies. This is what I'd like to look like every single day of my life if I could, not just in the artificial context of an awards show. Even though their stylist, Rebecca Grice, is likely the one pulling the strings, their outfits of late feel real and true, which makes them so much fun to live through vicariously. On Twitter, they described last night's looks as their "dream outfits."
Harry Styles had similar Big Personal Style energy last night in a geometric print Gucci suit and a matching purse.
And, of course, because this is a red carpet we're talking about, others went all out. Rina Sawayama, for example, wore a huge ruffled Balmain haute-couture dress.
Meanwhile, Dua Lipa channeled Amy Winehouse in Vivienne Westwood. Unlike the Haim sisters, I'm not sure she could wear this to a job interview, but I'd love to see her try.