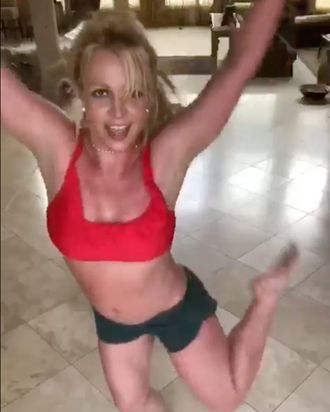 A woman "SLIVING" in impossibly low-cut shorts.
Photo: @britneyspears/Instagram
Britney Spears appears to have issued her definitive take on the recent spate of documentaries about her life — and let's just say she's not impressed. While she said in an Instagram post on Monday that she's "deeply flattered" that so many documentarians want to present their respective "takes on my life," on the whole, she finds the films "so hypocritical." She explained: "They criticize the media and then do the same thing 🤔🤔🤔 ????? Damn."
Her review — which she shared in a characteristically meandering, erratic Instagram caption, alongside a video montage of her enthusiastically dancing, wearing an impressive variety of ultra-low-rise shorts and cropped bra tops — largely echoed the sentiments she expressed earlier this year about Framing Britney Spears, the first documentary to reexamine her meteoric rise, media treatment, and ongoing legal battle over her conservatorship. While she said that she didn't watch the film in its entirety, she was "embarrassed by the light they put me in," she wrote in an Instagram in late March, nearly two months after the investigative series' release.
Now, it appears that many more documentaries about her life are on the way. Though Spears doesn't say so explicitly in her caption, her Instagram is presumably in response to another documentary, released earlier this week by the BBC. "I think the world is more interested in the negative 🤷🏼‍♀️🤷🏼‍♀️🤷🏼‍♀️ !!!!" she wrote, later asking, why revisit "the most negative and traumatizing times in my life from forever ago" when we're "supposed to be a business and society about THE FUTURE."
Personally, Spears remains focused on the brighter days ahead: "I have so many trips I'm looking forward to taking this summer and I can't wait to dance in different studios 👯‍♀️👯‍♀️👯‍♀️ !!!! I'm hoping to get a miniature koi pond in my backyard as well 🐠🐠🐠 !!!! I know I'm weird but hey … it's the little things you know." While she may be "no Martha Stewart" — by her own assessment — she believes she has "the finest gardens here in L.A.," one worthy of a Better Homes and Gardens cover. She continued: "I hope you're all living your best lives and shit or as @parishilton would say SLIVING!!! … I know I am!!!!"
Her beautiful vision for the future did not include a mention of her very buzzy upcoming conservatorship hearing, where she will finally address the court for the first time — and, presumably, have the opportunity to advocate that her father must be removed as the legal guardian of her life and finances. We eagerly await to hear what will be said.