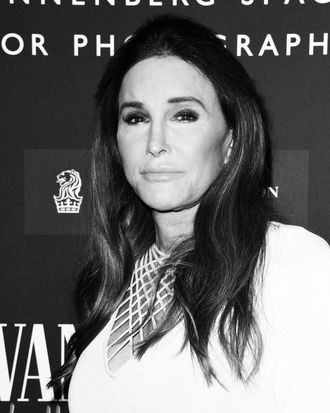 Photo: Jon Kopaloff/FilmMagic
Caitlyn Jenner had a busy weekend. After recently announcing her run for governor of California, Jenner shared her position on anti-trans bills barring transgender kids from competing in school sports. As she told a TMZ reporter on Saturday, she is against "biological boys" competing in girls' sports in schools, a position that seems at odds with calling yourself an "advocate" for trans rights.
"This is a question of fairness," she says in the clip. "That's why I oppose biological boys who are trans competing in girls' sports in school. It just isn't fair. And we have to protect girls' sports in our schools." Trans-rights activists were quick to call out the hypocrisy of her statements with LGBTQ+ rights organization Equality California tweeting, "[Caitlyn Jenner] is willing to sacrifice the health & well-being of #trans kids to win votes."
After the impromptu interview, Jenner doubled down on her stance in a tweet, stating, "I'm clear about where I stand. It's an issue of fairness and we need to protect girls' sports in our schools."
This position seemed like a departure from some of the former Olympic gold medalist's previous statements about trans girls and women in sports. In her 2015 Arthur Ashe award speech she said, "I also want to acknowledge all the young trans athletes who are out there given the chance to play sports as who they really are." The next year, Jenner played in a women's golf tournament.
Despite her cultural prominence as a very famous transgender woman, Jenner continues to espouse and associate with anti-trans rhetoric. She was vocal about her support for Donald Trump, whose administration banned trans people from serving in the military. Though she eventually recanted her support, Jenner, who is running as a Republican, has since hired a member of Trump's inner circle as her campaign manager.
Currently, at least 34 states are considering legislation that bans trans girls from playing on girls' teams in schools. These anti-trans sports bills are akin to anti-trans bathroom bills — which specifically target trans women using women's restrooms — in that they are presented under the guise of protecting cisgender women despite little to no evidence that trans women perpetuate violence against cisgender women. In fact, it's often the other way around. Likewise, when lawmakers who support anti-trans bills are asked to cite examples of trans girls in sports creating problems, most are unable.
Jenner's latest statements are disappointing but unsurprising, given her efforts to court republican voters. If there were still questions about how Jenner's run for governor will impact trans people, these comments should help clear up any confusion.