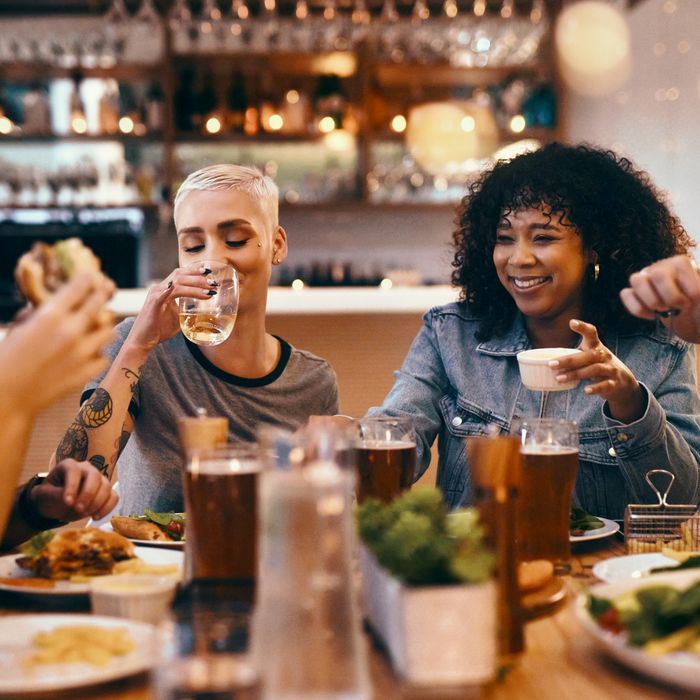 This could be you, if you're fully vaccinated.
Photo: Getty Images
Finally, the news we've all been waiting for: If you've completed your COVID-19 vaccination cycle, you no longer need to wear a mask in most scenarios. This afternoon, the Centers for Disease Control and Prevention announced that it's dropping its mask requirements for people who are fully vaccinated.
"We have all longed for this moment when we can get back to some sense of normalcy," CDC director Dr. Rochelle Walensky said on Thursday. "Based on the continuing downward trajectory of cases, the scientific data on the performance of our vaccines, and our understanding of how the virus spreads, that moment has come for those who are fully vaccinated."
Under the new guidance, people who are fully vaccinated — a marker you reach two weeks after your last COVID-19 vaccine, whether you received the single-dose Johnson & Johnson or the two-dose Pfizer or Moderna vaccines — no longer need to wear a mask or practice social distancing, inside or outside. However, the CDC has outlined a few exceptions. Namely, if you're in a crowded, enclosed public setting — such as a bus, hospital, homeless shelter, airport — you should continue to cover your mouth and nose. Additionally, if "federal, state, local, tribal, or territorial laws" dictate that you must wear a mask, or a business maintains such a requirement, you'll have to abide by those rules.
The announcement signals a remarkable turning point in the pandemic: When the CDC first instructed people to begin wearing masks to prevent the spread of coronavirus last spring, the country was regularly tallying more than 1,000 COVID deaths each day, NBC News reports. Now, we have multiple highly effective vaccines against the virus, and per the CDC, 35 percent of the U.S. population is fully vaccinated. While vaccine hesitancy and inaccessibility remain significant barriers to reaching herd immunity, it's hard not to feel some optimism. Go off and kiss a fully vaccinated stranger! (Just kidding.)