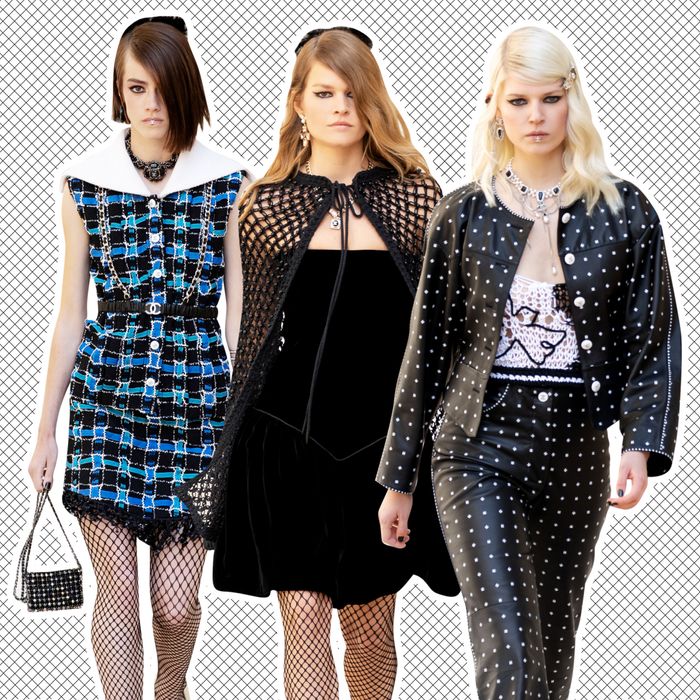 Photo-Illustration: by The Cut; Photos: Courtesy of Chanel
Up until very recently, thinking about what to wear in the made-up fashion season of "Resort 2022" or "Cruise 2022" would have felt almost inconceivable. For so long, we've hardly been able to imagine the next week or month of our lives, let alone ponder getting dressed a year from now — and on a potential vacation no less. But on Tuesday, Chanel offered its own vision of the future and allowed us to dream a little.
Oddly, as a number of people have pointed out, this future vacation looks a little something like Warped Tour, the rock-music festival hosted by Vans starting in the mid-'90s. Chanel's official references were, of course, more highbrow. Designer Virginie Viard said she wanted to do something "quite rock" and drew inspiration from the films of Jean Cocteau (a friend of Coco Chanel's), specifically Testament of Orpheus from 1962.
In a press release, Viard listed some of the elements of the look: "Lots of fringes, in leather, beads and sequins, t-shirts bearing the face of the model Lola Nicon like a rock star, worn with tweed suits trimmed with wide braids, and pointed silver Mary-Janes." There were plenty of fishnet tights as well, plus lip rings and studs. It is "a look that recalls as much the modernity of the sixties as that of punk," per the statement — although there's definitely some late '90s in there too.
The show itself took place in Provence, the sunny region in the south of France. Specifically, it was set inside the Carrières de Lumières (French for "Quarries of Light") in Les Baux, which is where Testament of Orpheus was filmed. The angular caves, which created their own puzzle of sun and shadow, provided a fitting backdrop for the black-and-white collection, which itself was a juxtaposition of light and dark.
Recently, Elle predicted that a pop-punk-girl summer was on the horizon, and the prophecy appears to be taking shape before our eyes. See for yourself by watching the full Chanel Cruise 2022 show below.