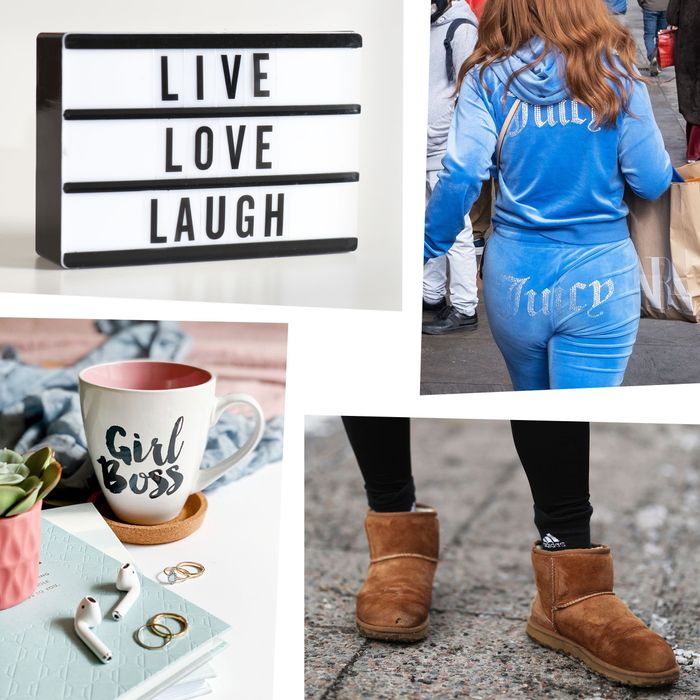 "Live Laugh Love" decor, velour Juicy tracksuits, #GirlBoss aesthetic, and UGGs have all been called "cheugy."
Photo-Illustration: by The Cut; Photos: Getty Images, Shutterstock
It feels cheugy to talk about cheugy. What does that even mean? How very cheugy of you to ask.
Last week, the New York Times's Taylor Lorenz took a deep dive into the term, which has apparently been gaining popularity on TikTok. According to the various 20-somethings quoted in the piece, cheugy (pronounced "chew-gee," with a hard G) is used to describe someone or something that's outdated or trying too hard, usually in a very millennial kind of way.
For example, according to connoisseurs of the term — which was reportedly invented by a now-23-year-old software developer in 2013, when she was in high school — the following qualify as cheugy: chevron prints, "Live Laugh Love"-style home décor, Rae Dunn pottery, this hand-lettering style. Think things likely beloved by the high-school classmate who tried to make you join a multilevel-marketing scheme.
A few other things deemed cheugy, according to the Times: emoji merch, giant inflatable yard decorations, Herbal Essence shampoo, cruises, and Dancing With the Stars. What do they have in common? Nothing, but somehow everything. At least according to cheugy aficionados. "One of my friends said lasagna is cheugy," one person commented.
If this definition sounds a little vague, that's because it is. Cheugy things, by definition, have a hard-to-pin-down, undefiniable element — part 2010 aesthetic, part girlboss energy — that gives them that cheugy flavor. "What is and isn't cheugy is highly subjective and changing quickly," Lorenz notes. Part of me feels like we're just speaking the new term into existence — am I a cheug? Is my dog? She does enjoy autumn leaves and the smell of Bath & Body Works.
So far, much of the Cheugy Discourse is people just trying to suss out what is and isn't cheugy. The rest appears to be millennials having an existential crisis.
In addition to definitively millennial things like our beloved side part, there is some overlap between cheugy and basic: #girlboss aesthetic, Christian-girl autumn, leggings paired with an oversize sweater. But cheugy seems broader, as though it carries less of the misogynistic and classist implications of basic. It also feels less mean-spirited. While basic implies being simple or less than, cheugy feels softer and more self-deprecating (in part because the word is nonsensical). There's also something freeing in proclaiming oneself a cheug.
And boys can be cheugy too! According to the Times, Barstool Sports, "Saturdays are for the boys," and long board shorts: cheug, cheug, and even more cheug. Rich people can also be cheugy. Gucci belts with the big "GG"? Cheugy. Tory Burch sandals? A cheug's shoe of choice. Tiffany & Co. bracelets? Cheug city. Even words and phrases can be cheugy: I did a thing, adulting, all the feels, doggo.
The broadness of cheugy aides its allure. This article led to me believe that just about anything can be cheugy if you will it to be so. For instance, some things that are cheugy to me (someone who is likely a cheug): Starbucks Frappuccinos, gender reveals, and feeling like 2000 was only ten years ago.
So, what isn't cheugy? Gaby Rasson, who takes credit for coining the word, told the Times, "Looking good for yourself and not caring what other people think, that confidence exudes non-cheugyness." But turning that quote into chalkboard art with loopy cursive? Cheugy.
"Coming up with a word like cheugy is a way to distance yourself from something that used to be really popular until very recently," linguist and author Gretchen McCulloch told the Times. Although no one arguably wants to be seen as someone who does passé things, the originators of the term insist that it's not a classification of "good" or "bad." As one TikToker puts it, "We all have a little cheug in us."