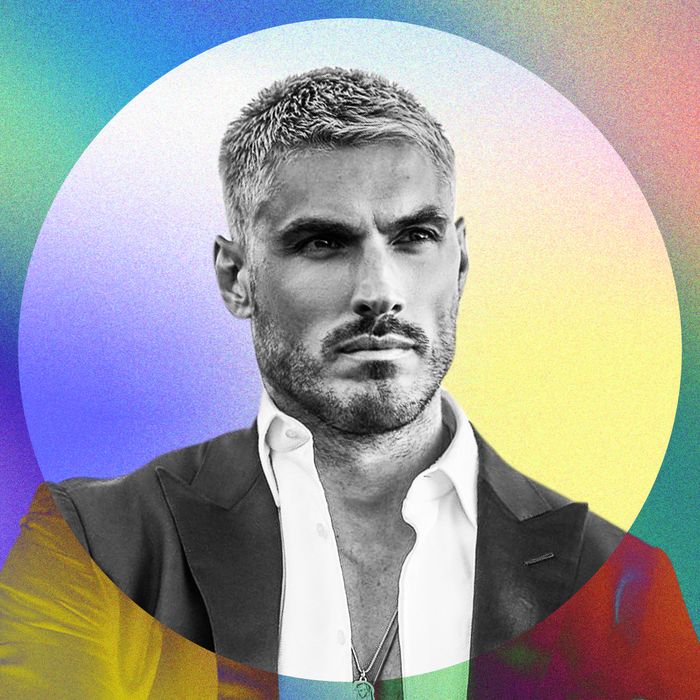 Chris Appleton.
Photo-Illustration: by The Cut; Photo: , Courtesy of Color Wow
If you've looked at a picture of an A-list celebrity and felt inclined to grab sunglasses because their hair looked so ridiculously reflective, there's a good chance Chris Appleton was behind that sheen. If it was picture of Kim Kardashian, Ariana Grande, Dua Lipa, Katy Perry, or Jennifer Lopez, then he most definitely was.
Those are just a handful of the famous people who turn to Appleton in times of need (the Met Gala, the Grammys, the 2020 Super Bowl, etc.) The British hairstylist is known for his gravity-defying waves, slick ponytails with nary a hair out of place, and above all, his signature "glass hair" — unbelievably glossy, photogenic strands that rival the reflective slipperiness of dolphin skin.
Appleton recently bottled the "prep step" to glass hair with the launch of Money Masque, his first-ever product made in collaboration with Color Wow, where he serves as global creative director. Appleton helped design a lightweight, gel-like treatment that penetrates deeply into the hair cuticle and cortex to hydrate and strengthen all textures from the inside out, rather than simply coating hair in the usual stuff (wax, oil, conditioning polymers, that old chestnut) that make hair feel smooth but really just weigh it down. The Cut talked to the shiny-hair pro about self-care, social media, and shower epiphanies.
Do you think of beauty as self-care? Why or why not?
Yes, I do. As a professional in the industry, I feel like it's my job to take care of myself to in turn be able to help the people that I'm working with look good and feel good. It has to come from somewhere. You can't be on an empty tank to perform in the beauty industry. You have to have self-love and self-worth. You're performing a service, you're giving to people, you're making people look and feel great; you have to have a full tank.
For example, when styling clients, my hands are exposed to a lot of products, and they get sore from being in water often, so one of my favorite things to do is just get a manicure-pedicure. Just having that little hour or so, once every two weeks or whatever, it literally makes me feel so much more back in the game again. Or going to the gym. I go regularly, and it's not just because I want a nice body. That's probably 30 percent of it. But the bigger thing for me is the mental side of working out, and how it makes me feel: more motivated, it releases endorphins, it makes me feel like I stand taller. I'm concentrating on myself so I have something to give.
Has the way you think about beauty changed during the pandemic?
Oh, insanely; it's turned it on its head completely. Trends, everything, has changed. People are embracing their natural hair texture, people are embracing being a brunette when they've been a blonde their whole lives. People have been forced to, because we've been given this opportunity to see ourselves in a light that we haven't seen for a long time. We've been so used to conveniences, going into a salon, go into a blow-dry bar. We've been in this mechanical process of what we do in life, and then all of a sudden, those mechanics stopped. The roots grew out, and we all had to be like, Okay, well, what if I dry my own hair today, or I'm going to make my skin look good, and do my makeup myself. So I think the beauty regime became much more hands-on, and I think people now have much more appreciation for what goes into great hair and great skin.
What do you wish more people understood about what you do?
You know, I feel like that dream came true in the pandemic. I started doing this because I like to make people feel better. I did my mom's hair when I was, like, 9 years old, and I did it because when she stood up and looked in the mirror, I realized that she looked and felt great. And for a minute she would forget about her everyday life, of being a mother of five. I'd try to make her feel like a Hollywood star, and I saw a small amount of that in her reaction. I think during the pandemic people really learned and appreciated that effect. People realized, when my hair looks bad, I just don't feel that great. Even if I was giving tips on a quick blowout, or little tricks on how to make your hair look good for a Zoom, or how to trim your bangs, I think people just had a different appreciation for what what goes into hair and makeup, creating looks, and the power of it. It was nice to see people really appreciating the power of what great hair can do for your inner confidence, for your mood. It can lift you up. It's not just about looking good, it's about feeling great.
What does it feel like working on the hair of some of the most famous people in the world?
Fortunately, for me, I don't really think of it like that, because I can get nervous before any job. There's no difference to me doing Mrs. Jones that comes into the salon every week, and she's 80 years old and has a walking stick, and a celebrity because, honestly, the main objective is I love what I do, and I really genuinely want to make people look their best. And it doesn't matter if you have all the money in the world or you don't have any. I started doing this because I realized I had this ability to give to people something that was like emotional medicine.
I saw that in all different aspects, like when I worked with cancer patients. I did their wigs to make them feel great. These strong-hearted women that I knew so well would come in, they lost their hair, and it was like they'd lost their identity. I used to work on these wigs, making them look more natural, and I saw the way they walk out; they walked out differently. They walked out feeling like they could take this on and fight it and when they looked in the mirror, they were strong enough to do this. So I think, to me, it really doesn't matter who or what its about. Great hair makes everyone feel universally good.
What's one fan experience that stood out to you?
They want me to like sign weird stuff. Like their boobs or their jacket. Or I'll be with my kids at theme parks, and they'll be like, "OH MY GOD. That's Chris Appleton!" "You're iconic!" "The hair you get, you slay!" You forget that social media gives you this platform. To me, social media is almost like a computer game. You see the views, you see the numbers, and you kind of forget they're real people. I'll notice sometimes that people are staring or saying things to me, and then it'll hit me. What you put out there really does get viewed and people really are seeing it, and they feel like they know you.
Oh, and they also always ask me to take my top off. They're like, "Oh, can we take a picture?" And I'm like, "Sure!" And they'll be like, "Okay, can you take your top off?" [Laughs]. I don't, but again, that's what's out there on social media. I just laugh and say, "Not today," but that's cool of you to even ask, I like that you're so brave.
Where would you like to see the beauty industry go from here?
It's really important to be inclusive of all hair types. I'd like to see hair of every texture and type celebrated. We should also celebrate more products that aren't just about short-term performance, but long-term longevity for your hair type and texture. That's why I brought out this mask, because it wasn't just about making hair look soft, it was about actually giving it strength, substance, and moisture and over a long period of time, so the hair is performing and being becoming better, not just feeling soft when you wash it. I'd like to see more technology, more emphasis on performance.
What, in your opinion, is the best affordable beauty product or products?
I have all these expensive serums, lotions, and potions that people send me or tell me to use, but my facial wash is actually really basic, I just use Clean & Clear face wash. And my body wash is that liquid Dr. Bronner's soap that has like 18 different use. I love it. It's not that expensive, it lasts forever. One day I was in the shower, bored, and I started reading the label like you do, and I was like, What is this long-ass label? It's got so much writing on it … and then I realized you can use it to wash the pots! You can disinfect surfaces! You can use it in the washing machine! I was like, Oh my God, this is amazing. What a miracle.
Is eye cream "worth it"? And which one is your favorite?
One hundred percent. SkinMedica has a really great illuminating eye cream. Beautiful.
What's the wildest luxury beauty experience you've ever had?
Probably this 24-karat-gold wrap I got in Milan, when we were out there for a Versace show. It went over my whole body, face, everything. I was just … wrapped in gold. I felt like Tutankhamun. And they just went off and left me for, like, 45 minutes. It was an interesting experience, but I think I'd rather just have a regular massage. It started as a regular one, but then they were like, "Oh, you have to try this massage. It's really gonna help your skin texture, and it's really gonna do this, and it's going to do that, it's really gonna save your life!" I'm such a sucker once I'm in there, I'm like, "All right, let's do it." But I usually like to keep it simple, with stuff that really works, you know? Otherwise, it's so easy to get lost.