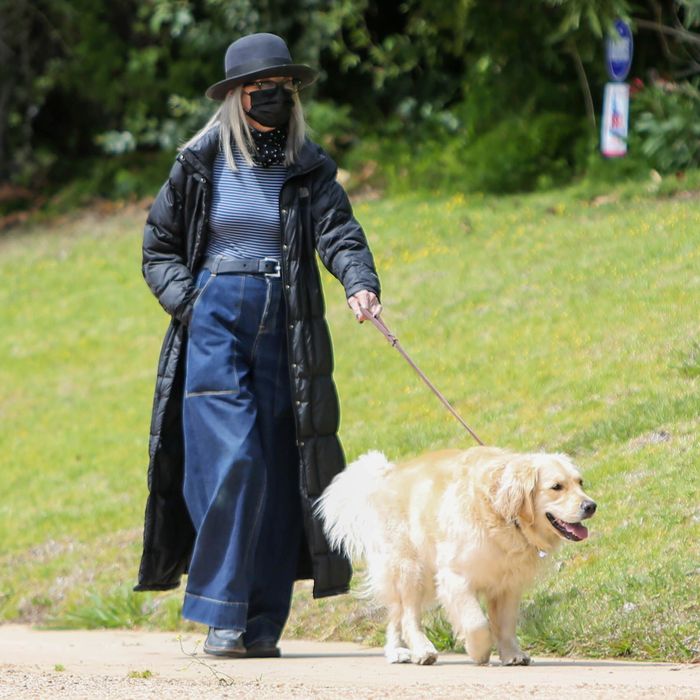 Photo: Bauer-Griffin / SplashNews.com
Everyone's talking about jeans. They're back, even though they never really left, and they are both skinny and loose and high-rise and low-rise. But the only jeans I want to talk about are the absolutely enormous pair worn by Diane Keaton yesterday, when she took her equally large, very good dog out for a walk. They are simply too big to be ignored.
Trends change (I'm personally sizing up), but Diane Keaton's love of large jeans remains steadfast. Every time she posts a pair of them on Instagram, society reacts. In 2019, when she first shared a pair of JNCO-looking jeans on her personal account, even celebrities were impressed. Jennifer Garner, Debra Messing, Aubrey Plaza, and Tracee Ellis Ross all commented on their greatness. "WHO MAKES THEM???" wrote Gwyneth Paltrow.
The answer is Maison Martin Margiela. In a follow-up post, Keaton called them "GENIUS" and "THE BOMB" in all caps. "I'VE NEVER RECEIVED MORE COMPLIMENTS ON ANYTHING I'VE EVER WORN IN MY ENTIRE LIFE," she added.
The jeans she wore yesterday have a similar silhouette, but they are NOT the same. This particular pair (the brand has not yet been confirmed) has different (but still enormous) pockets in the front, reminding me of this TikTok where a girl pulls an endless number of items out of her pants like she's Marry Poppins. They also seem to be a different color.
Wherever these pants came from, may they serve as a reminder that it doesn't matter what kind of jeans other people are wearing; just wear whatever pants you think are GENIUS and THE BOMB.