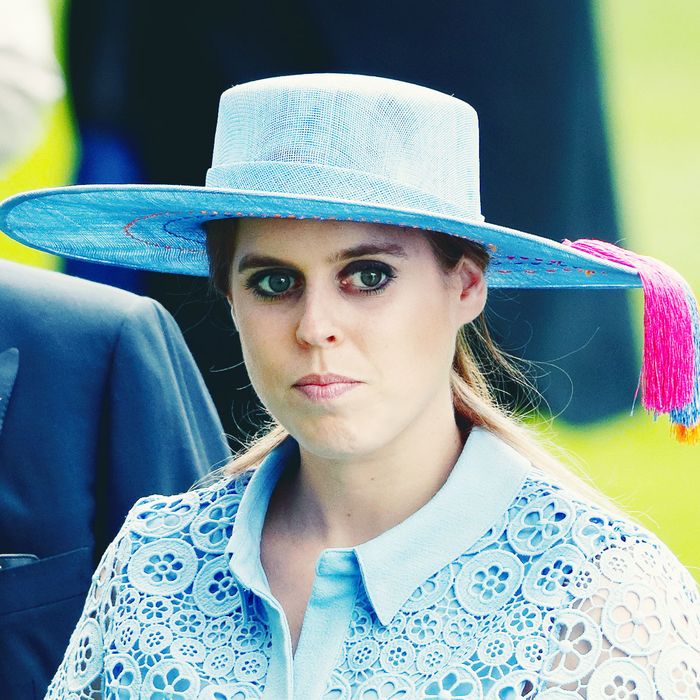 Princess Beatrice
Photo: Max Mumby/Indigo/Getty Images
Gird your loins for this fresh report of exceedingly petty royal behavior, courtesy of the tabloids. The sources are speculating that Princess Beatrice may have timed her pregnancy announcement to slight Meghan and Harry, stealing their thunder on their third, yes third, wedding anniversary? It would be … not necessarily shocking if true, but certainly a very convoluted route to revenge for a pair of adults to take. Let us examine the evidence.
On Wednesday, Buckingham Palace announced the impending royal offspring in a statement, reading: "Her Royal Highness Princess Beatrice and Mr. Edoardo Mapelli Mozzi are very pleased to announce that they are expecting a baby in autumn of this year. The Queen has been informed and both families are delighted with the news." A fairly regular royal statement, but one that just so happened to land on Meghan and Harry's anniversary. "Page Six" invites you to read into this.
"It was a total dig at Harry and Meghan," one "highly placed source" told the outlet, while Robert Jobson, author of Prince Philip's Century, granted that it "may have been a coincidence, but I don't think so. What goes around comes around."
Back in 2018, the U.K. tabloids went bananas when Harry and Meghan announced that Meghan was pregnant with Archie, allegedly at Princess Eugenie's wedding. And if that is actually what happened, then sure: Sounds like they may have upstaged the happy couple a bit. However! Harper's Bazaar reports that the big guns — the queen and the late Prince Philip; Prince Charles and Camilla; and, in this case, Eugenie and Jack — "knew all about Meghan's pregnancy before the wedding, but hadn't seen the Sussexes in person until" that day. So maybe someone mistook those face-to-face congrats for an announcement, or maybe the tabloids were once again vilifying Meghan for sport. Either way, for Beatrice to take up her sister's grudge and carry it into her own pregnancy announcement three years later would be dizzyingly messy.
But then again, it also wouldn't be totally outside the realm of possibility. This family seems to thrive on meticulously coded barbs and spectacular displays of passive aggression, particularly when it comes to Meghan and Harry. As one "royal watcher with close links to the palace" put it to "Page Six," "Beatrice must have known what the timing would look like, surely?" I mean, maybe!! But as is the case with so many Windsor-related dramas — that business with the Marchioness (?) of Cholmondeley (??), for example, or the time Beatrice allegedly slashed Ed Sheeran across the face with the sword she was using to knight James Blunt — we probably won't ever know the whole truth.