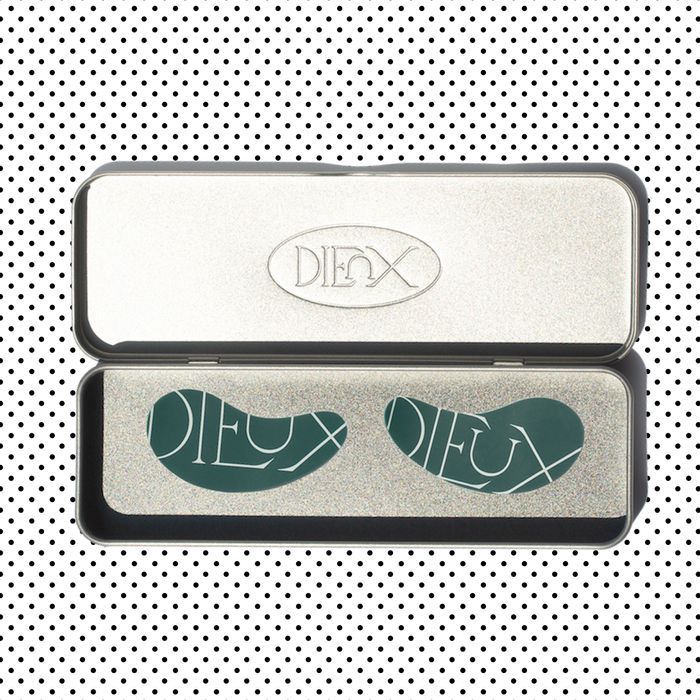 Photo: Courtesy of the Retailer
I have tried just about every eye cream on the planet, but my dark eye circles remain two indents that, without concealer, make me look like I'm "about to cry," as a frenemy in college once put it. A good eye cream can make the area look anywhere between 2 and 5 percent smoother. Certain eye patches can temporarily make them look maybe 10 percent lighter, but those feel like a luxury, since even the least expensive ones cost a few dollars. Nothing really worked, until I got my hands on Dieux's Forever Eye Mask.
I'd seen the mask on Instagram and had heard good things, but it was often sold out. Made of medical-grade silicone, it works by acting occlusive to seal in any creams, serums, or oils, sort of like Saran-Wrapping the moisture. I put it to the test by applying it over eye cream to only one eye for five straight days.
Each day, after about ten minutes, the Dieux-ed side looked noticeably better. My eye bags and puffs decreased in volume and darkness. They shrank and lightened. I went from looking like I'd stayed up too late to looking like I went to bed a half-hour earlier than usual. After removing the patch, my under-eye area felt different — smoother, softer, and even slightly clammy (in a good way).
The mask is backed up by scientific evidence. Medical-grade silicone is used to help with keloid scars and can help with clinkles (chest wrinkles). The material draws moisture to the surface, to hydrate and help soften fine lines.
I want to set real expectations here, because every time someone lies about a dark-eye-circle product, a fairy loses its Sephora VIB Rouge points: It looked about the same as if I had used an eye patch. But because the Dieux mask is reusable, it's a lot more affordable — and a lot more sustainable. You can use the same one for a full year, which means 365 straight days of lighter dark circles.