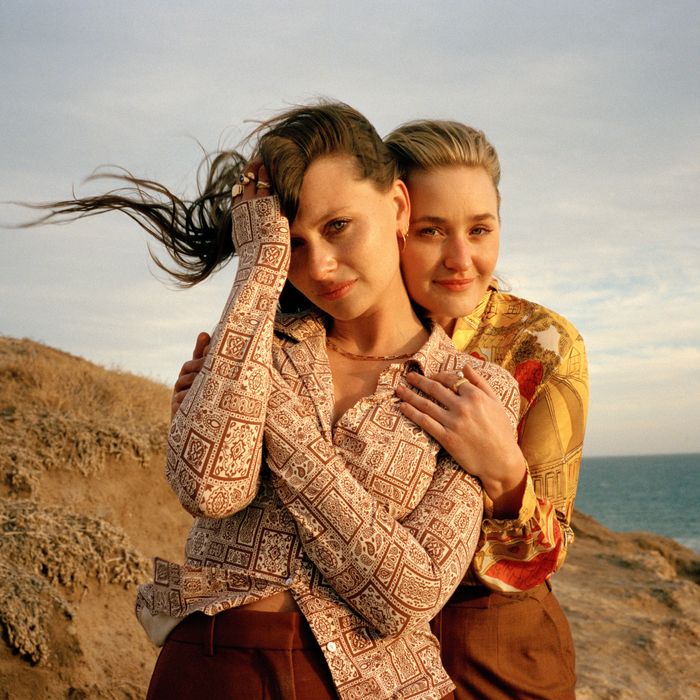 No one did a better job at teaching a generation of millennials what it meant to have relationship standards in 2007 than the Disney Channel breakouts Aly & AJ with their hit "Potential Breakup Song." But the teen music duo, like so many child stars before them, quickly outgrew the Mouse House in a determined hunt for more creative freedom.
After solo acting pursuits and a collection of acclaimed EPs and singles starting in 2017, Aly & AJ are returning to their roots as live performers. The sisters, now 32 and 30, released their first full-length album since 2007, a touch of the beat gets you up on your feet gets you out and then into the sun, and AJ says they are ready to welcome devoted fans and new listeners alike into this chapter. "This is the first record that we've ever put out where I feel like this is the start of something really new for us," she says, explaining the San Fernando Valley natives' move into a soundscape that is equal parts '70s Laurel Canyon and '90s Lilith Fair.
The Cut talked to the singer-songwriters about their "timeless California vibe" and their biggest sartorial regrets as high-profile adolescents in the unforgiving mid-aughts.
When sort of vibe were you going for with the new album?
AJ: A quintessential California, alt-rock, fun, timeless album that tells a story and also begins a new chapter for Aly and I. We'd never really spent this kind of time and effort on the lyrics and the arrangements, and I really feel like we have grown.
Aly: It's been a long time coming to make this record, but at the same time, I feel like we needed to make the EPs, we needed to make those old records as teenagers, to get here. I'm just grateful that we're releasing music that we've never been more proud to make.
Do you feel like this is a comeback of sorts for you as a musical act?
Aly: We laugh and say this feels like it's our first record, which I know is weird because we've been in the business for so long. But in a strange way, this feels like a complete fresh start for us because it's the first full record that we made as adult women. I remembered making "Rush" and the feeling that we got from being in the studio for the first time, the excitement, the giddiness. For some reason, we had that going into the making of this record in a way that you don't always get.
A touch of the beat gets you up on your feet gets you out and then into the sun is one of the longest album titles since Fiona Apple's When the Pawn …
Aly: We didn't really think of it being insanely long. We knew our management was going to think this is insane, but I love that it feels like a long-winded sentence because I feel like that is so our energy as people. It's exactly how we talk, so I loved that we somehow captured that in an album title.
"Potential Breakup Song" recently experienced a resurgence on TikTok, which led you to release a rerecorded explicit version. How does it feel that it keeps finding new life?
AJ: I don't know if we'll ever fully close the chapter on that song, which is cool in the sense that there aren't a ton of artists that have a song that just can work for years. This revamp of it infused this new excitement to play it. We were getting a little sick of the song. It does kind of sound the same live over and over again, and that's exciting for our fans because they're coming to a one-night show, but for us, it's a 40-night show, so this gave me a new appreciation for it.
How would you say your style has evolved since your early days of fame as teens in the 2000s?
Aly: We just wanted to feel like we were dressing like ourselves. We've definitely gotten to a much better place from the days of, like, Insomniatic and Into the Rush — there was a lot of makeup on those covers. But it was also an era thing, like 2005 and 2006, those are some wild wardrobe choices when you see those red carpets. There's some really scary ponchos that I definitely wore. Why were ponchos a thing? Like knit ponchos, woven ponchos — very scary. I don't even mind the dress over jeans; I almost find that so wholesome. The chunky belts I could say no to, the overly layered pieces where you've got, like, a tank over a bustier. But it's also kind of funny, like, well, that's forever captured online, and what can you do about it?
You've spoken about being inspired by the female singer-songwriters of the '90s Lilith Fair era. If you were to play on the lineup of a modern-day version of the famed music festival, who would you love to see alongside you?
Aly: I would say you gotta have This Is the Kit up there, Haim, Clairo, Sharon Van Etten.
AJ: Angel Olsen, The Japanese House, St. Vincent would headline. There's so many amazing female musicians that you can put on that bill, but it should be an eclectic mix, not just one genre. It's funny because we've talked about this with our manager, like wanting to create the female Lollapalooza, the new version of Lilith Fair.
What words of wisdom would you now share with your younger selves?
Aly: Don't try to write for the genre or for radio, which we were trying to do in our younger years. I think that's why we were so frustrated with the industry, because we didn't see results in the ways that we wanted to.
AJ: I love this music, I love playing it live, and it feels good. And I feel like as soon as you start writing for synthetic purposes, the music just doesn't feel good. It's about being really authentic to yourself and going, Is this something I'm going to be proud of in years to come? And if it's not, don't put it out.