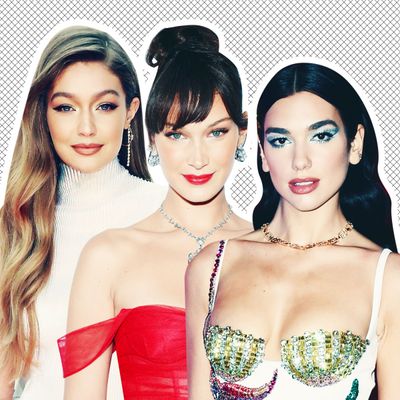 Gigi Hadid, Bella Hadid, and Dua Lipa.
Photo-Illustration: by The Cut; Photos: Getty Images
Over the weekend, the New York Times ran a full-page ad from Rabbi Shmuley Boteach accusing singer Dua Lipa and models Gigi Hadid and Bella Hadid of "anti-Semitism" after they separately voiced public support of the pro-Palestine movement. The ad accused the three women of "ignorance" and spreading "disgusting libel," calling for them to "condemn [Hamas] now."
Dua Lipa and the Hadids are among a handful of celebrities who have spoken out about the recent escalation in violence in Gaza amidst the long-standing tensions between Israelis and Palestinians. The Hadids' father is Palestinian and Dua Lipa is dating the models' younger brother, Anwar. Earlier this month, Dua Lipa shared the #SaveSheikhJarrah hashtag to her Instagram Stories, calling attention to the Palestinian neighborhood Sheikh Jarrah that's been occupied by and faced destruction from the Israeli Defense Force. Meanwhile, Gigi Hadid shared a statement on Instagram saying, "One cannot advocate for racial equality, LGBT and women's rights, condemn corrupt and abusive regimes yet choose to ignore the Palestinian oppression."
A few days later, Bella Hadid joined a Brooklyn protest showing support for Palestinians. In a since-deleted Instagram post, the model shared a photo of herself at the protest writing, "It's free Palestine til Palestine is free!!!" She also shared stories of Palestinian family members and a photo from a "Free Palestine" march she attended in London in 2017.
"The three mega-influencers have vilified the Jewish state in a manner that is deeply troubling," the Times ad co-sponsored by Rabbi Shmuley Boteach and the World Values Network reads, also claiming that "Hamas calls for a second Holocaust." This is not the first time Rabbi Shmuley Boteach has made spotlight-seeking statements. In 2016, he co-authored a Wall Street Journal article with Pamela Anderson encouraging people to "take the pledge" to stop "indulging in porn." The article cited former U.S. representative and convicted sex offender Anthony Weiner's unsolicited sexts as evidence of the "addictive dangers of pornography."
Dua Lipa has since responded to the ad in a statement shared on Instagram and Twitter, saying, "I utterly reject the false and appalling allegations." She added, "This is the price you pay for defending Palestinian human rights against an Israeli government whose actions in Palestine both Human Rights Watch and the Israeli human rights group B'Tselem accuse of persecution and discrimination. I take this stance because I believe that everyone — Jews, Muslims, and Christians — have the right to live in peace as equal citizens of a state they choose."
The Hadids have not yet responded directly to the ad, though in response to comments earlier this month calling her social-media statement anti-Semitic, Gigi said, "I condemn anti-Semitism," adding, "I do not wish any more deaths upon Israelis, just as I feel about Palestinians. What I do want is equal rights for Palestinians."
This past Friday, Israel and Hamas agreed to a cease-fire after nearly two weeks of violence resulting in the deaths of at least 12 Israelis and 230 Palestinians, many of whom were civilians, as reported by the New York Times. In Gaza, multiple mosques, hospitals, schools, and businesses, as well as the area's only COVID-19 testing lab and about 1,000 residential units, were destroyed, leaving over 75,000 residents displaced. The agreement remains intact as of today.