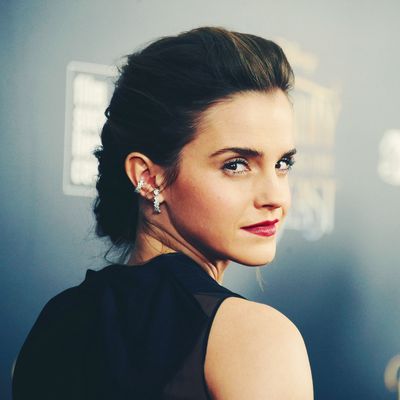 Emma Watson (not engaged).
Photo: Gary Gershoff/WireImage
So, yes, it does seem like prime time for secret celeb weddings and surprise proposals — only not for Emma Watson, who would like the world to please stop whispering about her marital status. Apparently, there has been a lot of internet speculation around the actor's relationship lately, to the degree that she posted a string of tweets addressing spurious engagement rumors.
"Dear Fans, Rumours about whether I'm engaged or not, or whether my career is 'dormant or not' are ways to create clicks each time they are revealed to be true or untrue," she wrote. "If I have news — I promise I'll share it with you."
"In the meantime please assume no news from me just means I'm quietly spending the pandemic the way most people are — failing to make sourdough bread (!), caring for my loved ones and doing my best not to spread a virus that is still affecting so many people," Watson continued. "I am sending so much love to you, hoping you're ok and as well and happy as you can be in these strange times. And again, thank you to everyone working so hard to keep us safe and well."
Hmmm! Spoken like a true 30-something diplomatically shutting down a nosy relative's marriage questions at Thanksgiving. (A particular skill of hers, actually.) But yeah, the past few months have brought a flutter of conjecture re: her personal and professional lives, seemingly because she isn't posting very often? I don't know: In February, her manager refuted tabloid claims that Watson was taking a break from acting, explaining: "Emma's social-media accounts are dormant but her career isn't." Then came the Daily Mail's repeatedly labeling Watson's boyfriend — Leo Robinton, reportedly a "California businessman" who used to work in legal weed and appears to still have a man bun — her "rumored fiancé." The paps first spotted Robinton and Watson kissing in October 2019, although there may have been kissing before that, who knows; Watson has always been private about the people she dates. Meaning we may never know what really happened between Draco Malfoy and Hermione Granger, and we will simply have to get comfortable with that. Anyway, butt out everybody, please and thanks!