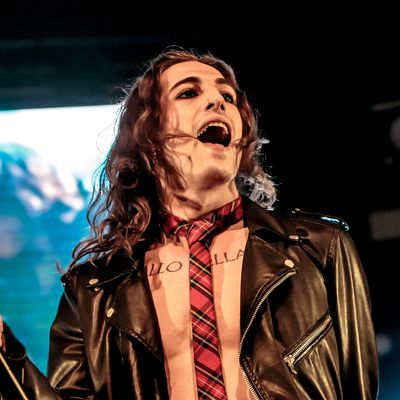 Damiano David
Photo: Sergione Infuso - Corbis/Corbis via Getty Images
Hey, you! Yes, you; you spreading the pernicious rumors about the Eurovision guy, allegedly seen railing a line of coke on live television! Stop saying he was doing drugs right there in the green room! Stopitrightnow. The Eurovision guy — Damiano David, lead singer of the Italian rock band Måneskin — wants you to know he would never, even though a clip of the band celebrating its win may suggest otherwise.
Måneskin, you see, won the song contest on Saturday, a moment they were seen toasting with a bunch of beers and Champagne, etc. When the cameras turned to their table, for reaction shots and so forth, they captured David ducking nose-first toward the table, in much the same manner as a person preparing to snort some cocaine might. At least, that is what it looked like to a number of Twitter users:
But at a press conference later on, David insisted that he did no such thing. His bandmate, guitarist Thomas Raggi, had merely broken a glass in all the excitement. "I don't use drugs," he insisted. "Please, guys, do not say that. Don't say that, really. No cocaine, please, do not say that."
And indeed, different angles on the incident do make the moment look less incriminating:
Plus, there really was a bunch of broken glass on the floor around their table:
What's more, David reportedly volunteered to take a drug test, and guess what? He passed it, suckers. The European Broadcasting Union announced David's victory on Monday, noting that its own review of the situation cleared David of all cocaine-related accusations, TMZ reports. Further, the union reportedly decreed that "inaccurate speculation leading to fake news" unfairly detracted from Måneskin's win. So! No cocaine jokes, please; Please, guys, do not say that.
This article has been updated.