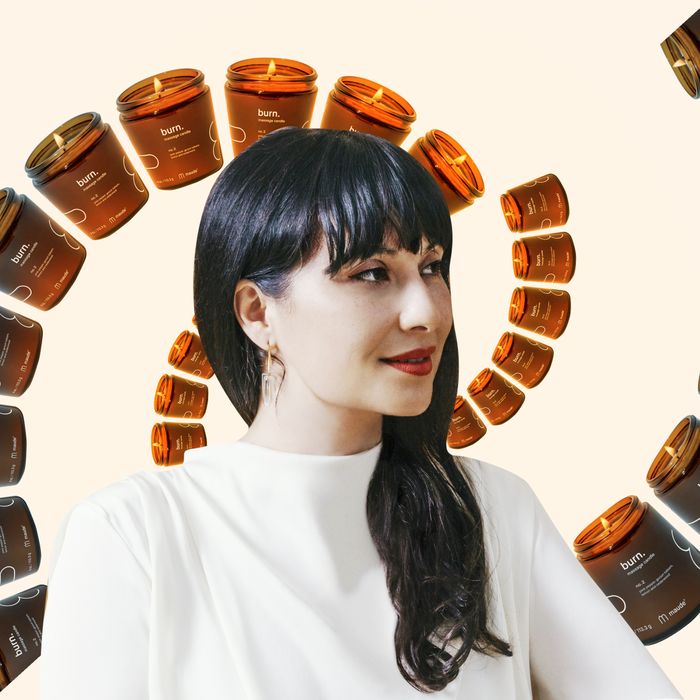 Éva Goicochea.
Photo-Illustration: by The Cut; Photo: Sharon Radisch
Scientific studies confirm that, of all the senses, smell offers the best recall. In "Scent Memories," the Cut asks people about the scents they associate with different times in their lives.
Next up is Éva Goicochea, founder and CEO of sexual-wellness company Maude. The brand recently launched its sophomore fragrance, scent No. 2. A follow-up to scent No. 1, which Goicochea describes as "a magnetic night by the fire," No. 2 is a morning-after blend of bright-pink pepper and lemon and calming balsam and cedarwood, which co-creative director Dakota Johnson likens to a fresh and cozy Sunday morning — all warm sun and supple sheets. It comes in two forms: a skin-softening massage candle and a stress-melting bath soak. The Cut caught up with Goicochea to talk fig trees, fresh rain, and burnt eggs.
My first scent memory is: Fig trees. I grew up in Northern California, and we had this huge backyard with a fig tree. I would just go sit in the fig tree, and the smell of the leaves is something that evokes that time for me. It's one of my favorite early memories.
Happiness smells like: The thunderstorms in New Mexico. The rain on the ground, the piñon trees, the sage bush — there's nothing like that smell. People have tried to bottle it up and turn it into incense. I'm from New Mexico and moved to California when I was 8 or 9, so New Mexico is home. I think one of the things that makes it such a special place is what the sky looks like there, and it's because of those rain clouds that so many people have painted the landscapes of New Mexico.
Love smells like: Malin + Goetz Cannabis, because my husband wears it. We've been together for 13 years, and whenever I smell it, I think of him.
Heartbreak or loss smells like: We are complete animal lovers and animal rescuers. We usually adopt older animals, so we've seen a lot of them pass, but we always keep the blankets they use. Once they're gone, it's like the last thing we have them, so we've kept a little box of all of their blankets. That's what heartbreak smells like to me.
Regret smells like: Salty gin on your skin after a long night out.
Success smells like: Our burn massage candles from Maude, because yes, it's a physical product, but it has this powerful olfactory experience that creates a mood and a sense of closeness for people. Realizing that we're able to create something that makes such a powerful experience for other people is what success feels like to me.
The worst smell is: Burnt eggs. I hate it. Making a soft scramble can so easily turn into overcooked eggs.
My ideal vacation smells like: Old bookstores. Vacation for me is being able to browse.
My home smells like: Incenses by Incienso de Santa Fe. They make incense based on smells from New Mexico, like hickory and piñon. I usually burn the little cedar rectangles.
The first thing I smell in the morning is: Green juice. I make one every morning, so the morning is really punctuated with celery juice and ginger smells.
The last thing I smell before going to bed: My dogs; I hug them before going to bed. I have two little Shih Tzus. They get a bath every week, and sometimes they're a little dusty, but for the most part they smell like their shampoo.
A scent or smell I love that others usually don't: Petrichor — that earthy smell when rain falls on dry ground. I love that smell. I don't think it's that unusual; I think everybody kind of likes that smell when they smell it, but I really love it.
I smell like: Comme des Garçons x Monocole Scent Three: Sugi. It smells like cedar, pepper, and vetiver.