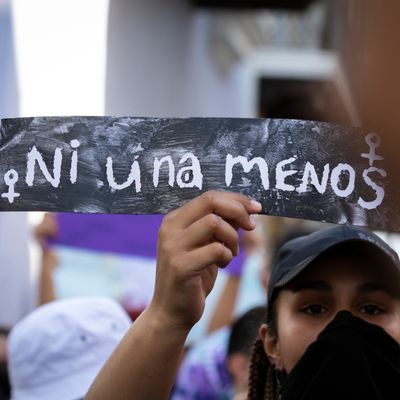 Protesters gathered in front of the governor's residence after the recent murders of Andrea Ruiz Costa and Keishla Rodríguez Ortiz.
Photo: NurPhoto via Getty Images
The name made my heart stop: Andrea Cristina. That's what a news outlet posted when reporting on the murder of Andrea C. Ruiz Costas, a 35-year-old woman killed by her former partner last week in Puerto Rico. Her body was found partially burned a month after she had sought a protective order against a man she had dated for eight months. The judge denied Andrea's request, claiming there was not enough evidence. Then her ex killed her. I've been covering the island's gender-violence epidemic for three years, and I still burst into tears when I saw her name. I've never known of anyone else named, like me, Andrea Cristina. And now I'm still here, but she's not.
Puerto Rico has been struggling with violence against women for as long as I can remember, and this past weekend was particularly devastating. As Andrea's remains were discovered, people were glued to their screens following minute-by-minute updates on the disappearance of 27-year-old Keishla M. Rodríguez Ortiz. She was in a decade-long relationship with the boxer Félix Verdejo, and on Saturday, her remains were found in the San José Lagoon. According to the criminal complaint, he allegedly drugged Keishla, bound her hands and feet with wire, tied a block to her, and dumped her over a bridge; when her body hit the water, he shot at her from above. This all happened at 8:30 a.m. on a Friday on one of Puerto Rico's most heavily trafficked bridges. She was pregnant with his child, according to her family.
This year alone there have been at least 21 femicides, per the Puerto Rico Gender Equality Observatory; since 2010, more than 150 women have been killed by their intimate partners; and last year, six transgender women were murdered — the highest number in any U.S. state or territory. My yearlong investigation into gender violence found that in 2018, in the aftermath of Hurricane Maria, the intimate-partner murder rate in Puerto Rico spiked to 1.77 out of 100,000 — more than double that of the entire U.S.
The horror of the recent killings and all the violence I've reported on before is etched into my brain. How do you make sense of loving your homeland while knowing that so many of your compatriotas hold such a deep hatred of women? How do you live in peace when you often think about the mujeres in your life and whether they are safe? How do you carry the grief of losing every cis, trans, nonbinary, straight, or gay woman who dies at the hands of men? (The perpetrators are almost always men.)
The murders of Andrea and Keishla have led to another wave of outcry, with Puerto Ricans demanding that the government do something — anything — to protect women. But there's no simple fix. This epidemic isn't ending anytime soon because this is a multifaceted crisis that requires every single Boricua to work together in order to eradicate it. This is a problem of cultural baggage, historically misguided government priorities, and a lack of resources on an island that's pretty much broke.
Puerto Rico is fundamentally a conservative, machista place. It's not rare to hear that a woman is at fault for being abused because she didn't choose the right partner or that maybe she's just lying about the abuse to punish him. If you report an incident to the police, you may get in return "But isn't he the father of your children?" You're expected to shrug your shoulders at sexist jokes, not make a big fuss if you're harassed by your boss, learn early that hay amores que matan. Love, they say, can kill you. This mentality seeps into the system. Advocates say judges routinely fail to issue protective orders, as in Andrea's case. When they are issued, police rarely enforce them, as I discovered in my reporting. Far-right lawmakers have been fighting in court against the state of emergency over gender violence that Governor Pedro Pierluisi declared in January — a step that women's advocates had been demanding since 2018. The measure is meant to free up funding and other resources to deal with the crisis immediately. It also established a committee tasked with reviewing current public policy and called for the creation of a mobile app to assist victims as well as a program to check in with survivors who have filed protective orders.
The state of emergency faces financial challenges too. On April 27, the Financial Oversight and Management Board said it could allocate only about $200,000, or 2.9 percent, of the $7 million Pierluisi had requested for the initiative in the 2022 fiscal year — a budget that has yet to be certified. In a convoluted press release, the board, which controls the island's finances, defended the decision, saying it had previously allocated $3 million for the local Department of Defense to fight gender violence, though it seems those funds were not connected to the state of emergency itself.
It's not only la junta. The Puerto Rico legislature has been giving less and less funding to domestic-violence shelters over the past few years, sources have told me. And for all the ways the police have failed to handle gender-violence cases, it's also true that the department has been steadily losing officers: Its head count fell from 22,000 officers to 12,000 between 2010 and 2017.
So what can we do? I fear that in a few weeks, Puerto Ricans will move on from Andrea and Keishla because there have been Andreas and Keishlas before. In 2018, it was Valerie Ann, whose body was found in garbage bags a week before Christmas. In 2019, it was 13-year-old Yomaira, whose 19-year-old "boyfriend" covered her in gasoline and set her on fire when she opened the door to her home. In 2020, it was Alexa, the transgender unhoused woman whose killers filmed themselves taunting her before opening fire. Every wave of outcry eventually ends. But how many more of las nuestras must live in fear of their abusers, their harassing bosses, the strange men who follow them home? How many more must die before there is a sea change?
It's time Boricuas make this a defining issue on the island, harnessing the same power they used to oust Governor Ricardo Rosselló in 2019. There need to be demands for the state of emergency to be fully funded as well as more resources for government agencies, shelters, and nonprofit organizations that are on the front lines of this fight. There needs to be more political pressure on elected officials to prioritize this crisis and to work together to find urgent solutions, including supporting progressive gender education for the next generation. What may seem simpler (but is not) is challenging the machismo around you — calling out sexism in your workplace, listening to women's experiences, and educating yourself and your children.
On Sunday, over a hundred protesters showed up at the bridge where Keishla spent her last moments alive. On Monday, they showed up in front of the governor's mansion demanding immediate action and refused to leave. This is the energy we should be channeling in all our daily interactions, in our calls to elected officials, and in our education systems. For a better Puerto Rico, vivas y libres nos queremos.