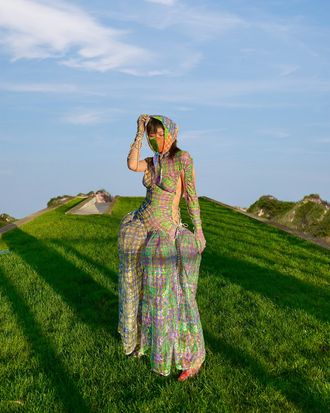 Photo: Steven Bibb/Li Yitao
On May 19, the Fashion Institute of Technology (FIT) debuted its annual Future of Fashion showcase, but this year there's a slight twist. Due to the pandemic, this year's event takes place entirely online. Called Runway From Home, it's the first virtual runway FIT has ever produced. The showcase still features all five concentrations offered in FIT's BFA program: Sportswear, Knitwear, Children's Wear, Special Occasion, and Intimate Apparel. But the students put together their final designs entirely remotely, which required a higher degree of creative problem-solving. The events of the year inspired a wide breath of themes: Designs touch on inclusivity, gender-neutrality, and sustainability.
"I have no doubt that this year's graduates will drive positive change and make the difference that will both define the future of fashion and help create change in their communities and the world," says Dr. Joyce F. Brown, president of FIT. "The remarkable level of talent, preparation, and work ethic exhibited by this class — forced to work remotely because of the pandemic — has been truly inspiring."
You can see the full FIT collection here and watch the Future of Fashion's Runway From Home video below.