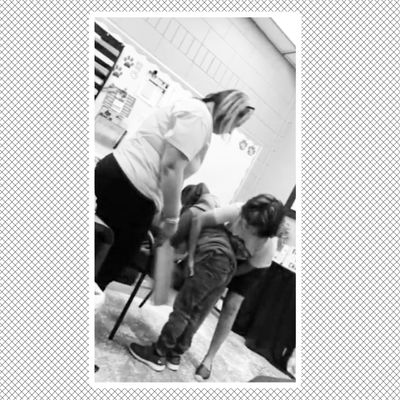 A screenshot from a video showing a Florida principal paddling a 6-year-old student, recorded by the student's mother.
Photo: WINK News
An elementary-school principal in Clewiston, Florida, faces multiple investigations after a parent caught her on camera paddling a 6-year-old student last month. The child reportedly broke a screen on a school computer, and the principal — Melissa Carter — called her mother to Central Elementary School, asking the woman to bring $50 to cover the damages. When the woman (who hasn't been named publicly) arrived, she told a local news outlet, WINK-TV, she found her daughter already in the principal's office with Carter and a school clerk. When Carter ordered the girl to bend over a chair, her mother says she started filming on her cellphone, capturing the principal spanking her crying daughter three times with a wooden paddle. WINK-TV published the footage.
The woman told the station that when the school called her about the computer on April 13, someone had mentioned paddling, but because of a language barrier — the student's mother speaks Spanish — she didn't understand exactly what was meant. She decided to film rather than intervene, she said, because she felt "nobody would have believed" her. "I sacrificed my daughter so all parents can realize what's happening in this school."
As the New York Times notes, corporal punishment remains legal in schools in 19 states, Florida included. Still, the Hendry County School District, which oversees Clewiston's Central Elementary, specifically prohibits corporal punishment. After the paddling, the woman took her daughter to see a doctor; the Hendry Regional Medical Center reportedly contacted the Clewiston Police Department, explaining that the woman wanted to file a report. The woman's attorney, Brent Probinsky, told WINK-TV that the investigation is now in the hands of the State Attorney's Office for the 20th Judicial Circuit, which will decide whether or not to charge Carter and the clerk. Meanwhile, Florida's Department of Children and Families is also looking into the matter. Deputy Superintendent for Hendry County schools, Robert J. Egley, told the Times that "the situation is still under investigation," and did not elaborate.
The student in question has since transferred and, according to Probinsky, the mother is pursuing criminal and administrative action against the school employees involved. "I'm going to get justice for my daughter because if I could not do it in front of her," the woman told WINK-TV, "I'm going to do it with justice."