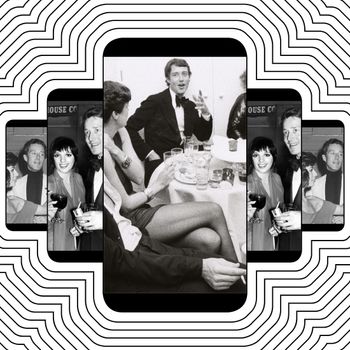 Photo-Illustration: by The Cut; Photos: Getty Images
Now more than ever, people are experiencing fashion through their phones. In "Screen Time," fashion writer Emilia Petrarca shares all the screenshots, double taps, and swipes she made this week.
Because Netflix's new limited series Halston premieres today, I've spent the last few weeks trying to embed myself in the designer's opulent, disco-adjacent world. I bought two different books about him; I've read various accounts from his friends and fans; and I've watched a handful of movies about him as well. Of course, I've only just scratched the surface. Halston was a complex man who lived a complex, albeit short, life. But despite the darker, more tragic aspects of his story — the designer died of AIDS in 1990 after battling a cocaine addiction and selling away his name — it's been largely delightful living vicariously through someone who, above all else, loved luxury and having a good time with beautiful people.
As is the case with most powerful aesthetes, Halston had an extremely high level of taste that both alienated people sucked them into his orbit. At a distance, I can appreciate his unwavering desire to elevate every aspect of his existence, especially as I sit at home in my sweatpants. No, I'm not going to spend $150,000 a year on orchids, as he was known to do. Nor am I going to have lobsters helicoptered to my house in the Hamptons. But why not buy myself some nice flowers for my desk? Or spritz myself with some perfume before going to the grocery store? Halston's legacy, like that of the best designers, makes me never want to settle for the ordinary. (It also makes me want to smoke cigarettes.) But the aspect of the designer's life that I actually find most aspirational right now is his ability to cultivate an impressive entourage.
Wherever Halston went, he seemed to be surrounded by the most talented, beautiful, interesting people in New York, and therefore the whole entire world. "You're only as good as the people you dress," he was known for saying, and he outfitted the best of the best. In the beginning, this included Jackie Kennedy in her iconic pillbox hat. Then there were the society power players like Babe Paley, followed by cultural icons like Liza Minelli, Bianca Jagger, and Elizabeth Taylor. Gianni Versace is said to have helped "invent" the supermodel, but it was Halston whose crew of beauties were so well-known, they had their own nickname: the Halstonettes. The designer would allegedly send a limo for each one of them — Pat Cleveland and Anjelica Huston among them — to arrive at Studio 54 in unison.
Of course, Halston was also surrounded by an all-star cast of creatives who made dressing these women possible: jewelry designer Elsa Peretti, illustrator Joe Eula, and his lover–slash–window designer Victor Hugo, to name a few. The lunches at his studio were legendary. "Soon the chic-est spot to have lunch in tout New York was Halston's salon, and an invitation was harder to come by than a reservation at La Côte Basque or La Grenouille," wrote Steven Gaines. He'd invite clients like Lauren Bacall drop by, and they'd spend the afternoon eating, drinking, gossiping — and, of course, trying on clothes.
Halston's entourage was enviable, but he was certainly not the only person in town with an impressive social circle. While Googling some others on the scene at the time, I came across this photo of designer Stephen Burrows and his crew, and it took my breath away. This is all I want right now!!! To be out and about in New York with a fabulous group of friends. I want to coordinate outfits like we're the HAIM sisters, and make a clown-car-type entrances. I've been so grateful for my "pod" this year, but I'm ready to see us shine, out in the world together like we're in some ridiculous Sex and the City movie poster.
Other people seem to be ready for the return of the entourage as well. I'm inspired by this particular Twitter user, who made their dinner-party dreams come true with cardboard cutouts.
I'm also seeing a lot of those TikTok videos where a group of friends will line up and list their outfit credits one by one. It's a strange and annoying trend, but I like to imagine a different version in an alternate universe starring Liza, Liz, Bianca, etc., where they all say "Halston!" "Halston!" "Halston!" into the camera ad infinitum.