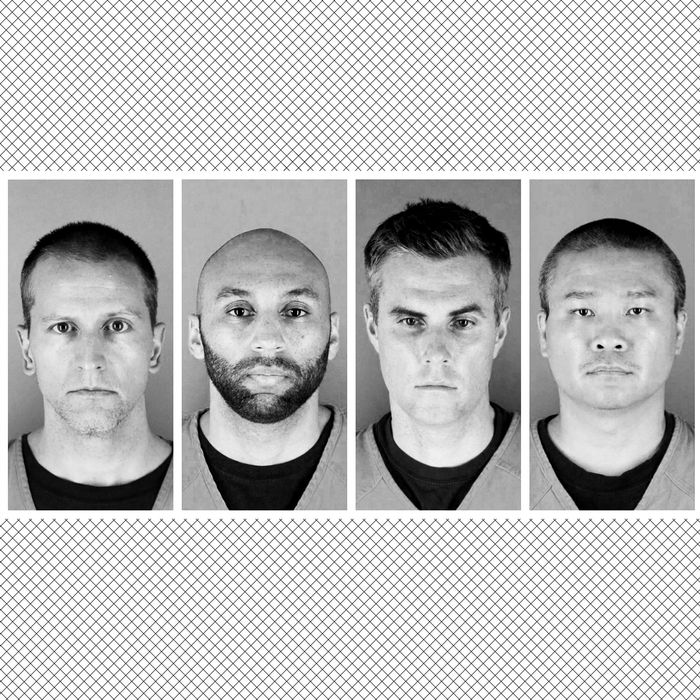 Former Minneapolis police officers Derek Chauvin, J. Alexander Kueng, Thomas Lane, and Tou Thao.
Photo: Hennepin County Sheriff's Office via AP
Last week, a federal grand jury indicted four former Minneapolis police officers, including Derek Chauvin, in connection with the murder of George Floyd, who died in police custody last year after Chauvin kneeled on his neck for more than nine minutes.
As CNN reports, Chauvin — who was found guilty on state murder charges last month — is now being charged with violating Floyd's right to be free from unreasonable seizure and unreasonable force by a police officer.
Former officers Tou Thao and J. Alexander Kueng have also been charged with depriving Floyd's right to unreasonable seizure, due to their failure to intervene to stop Chauvin's use of unreasonable force. The three officers, along with a fourth officer, Thomas Lane, have been charged with failing to provide Floyd with medical aid.
The indictment states that "the defendants saw George Floyd lying on the ground in clear need of medical care, and willfully failed to aid Floyd, thereby acting with deliberate indifference to a substantial risk of harm to Floyd." Chauvin has also been indicted in a second case related to a 2017 arrest and neck restraint of a 14-year-old boy.
On April 20, Derek Chauvin was found guilty in the murder of George Floyd. He was convicted on three counts — second-degree unintentional murder, third-degree murder, and second-degree manslaughter — and faces more than 40 years in prison. His sentencing hearing is slated for June.
All four officers were fired on May 26, 2020, the day after Floyd's murder. Thao, Kueng, and Lane also currently face state charges for aiding and abetting second-degree murder and manslaughter. Their trial was originally set for August but has since been pushed back to March 2022 with the judge saying they "need space" from the publicity surrounding Chauvin's trial.
Chauvin's conviction was a small shred of hope within a justice system that rarely indicts officers who kill civilians, let alone finds them guilty. "We were able to win this round, but it is still one round," George Floyd's brother Philonise Floyd told the Washington Post after news of Chauvin's guilty verdict broke. "We are going to the next round and the next round to win the fight."