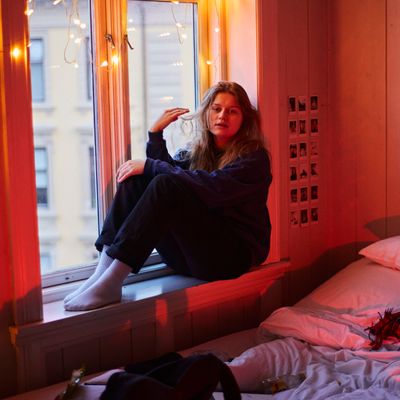 Photo: DAVID B. TORCH/The New York Times/Redux
When I heard girl in red's song "we fell in love in october," with its "My girl, my girl, my girl" chorus, my first thought was, "Where was this when I was a teenager?" The plaintive lyrics about queer love and mental health made me feel wistful for an adolescent self-possession that I never had. Behind them was an actual self-possessed teen, Marie Ulven, singing with honesty and vulnerability about all the things she was going through.
Now, at 22, Ulven has just released her debut album, if i could make it go quiet. Ulven follows the classic edict to write what you know, singing about topics from mental health ("Serotonin," a surprising banger about chemical imbalance and intrusive thoughts) to unrequited love (the oddly freeing "You Stupid Bitch"). It's an album that experiments with sounds and themes, and never pigeonholes the listener or Ulven herself.
The Cut talked with Ulven about getting inspired, bringing people together, and her love for Taylor Swift (who has recently returned the sentiment).
How did you imagine releasing your debut album? Did the pandemic change things?
It definitely changed the way I made the music. I was able to be in the studio a lot more, and just really make everything the way I wanted. It did push things back. I wanted the album to come out a lot earlier, but now I'm prepared for the next one, which I'm going to start working on in about 20 days. No time for celebration in this household!
There are so many different directions and sounds on the album. Were there things that you looked to for inspiration? 
I was getting inspired by a lot of weird stuff when I was making the album last year. Like, I was really getting into concrete and architecture and construction work. I was a completely different person than who I am right now. I'm changing so fast. The things I loved, like, two weeks ago, I couldn't care less about now. I can't even buy a piece of clothing anymore and not be sure I'm not going to like it soon. I'm definitely in a weird place.
I'm absolutely obsessed with your song "Serotonin." It's just so good. 
There were really fun parts of making that song — when I came up with the rap part, I don't think I've ever had that much serotonin in my body. But it was a roller coaster. I was losing my shit while making it. Making "Serotonin" killed me. I think that song made me depressed. But to have Finneas [brother and producer to Billie Eilish and co-producer of "Serotonin"] on a track that I felt so strongly about was just really cool.
You've said there are things on this album that you felt like you hadn't been able to talk about before. Why do you think you've been able to talk about them now? 
Because I was in a different place emotionally. I thought having intrusive thoughts meant that I was crazy and that I actually wanted to do all these weird things. Like, what's going to happen if I tell my friends, I've thought about cutting my hands off for the past ten years? No one is talking about it, but there are so many people with intrusive thoughts. I just had to grow emotionally to be able to sing about it, and talk about it, and get inspired by whatever's going on in my head.
How does it feel being so vulnerable in your music? 
I just gravitate towards that kind of honesty, and I really don't know why. It might just be who I am, you know? I never sit down and think, Okay, how can I be vulnerable now in my lyrics? I'm a very open person and I always think the best of people. I never think that people are going to take what I sing about in the wrong way because I've never been rejected yet.
Have you had fans reach out to you and tell you that they've been inspired by your music?
Yeah, that happens a lot. And I think that's the best thing that can come out of all this. It's people actually connecting, and that makes the music so much more alive. If no one listens, does the music really exist? That's some existential shit. So the fact that people are finding comfort in my songs, I think that's insane.
Have you had that feeling of connection or comfort with other artists? Who?
Taylor Swift. I mean, folklore — that helped me through the entire pandemic. It literally aided me. I feel like it wrapped me up and made me feel so good. I will forever love Taylor.