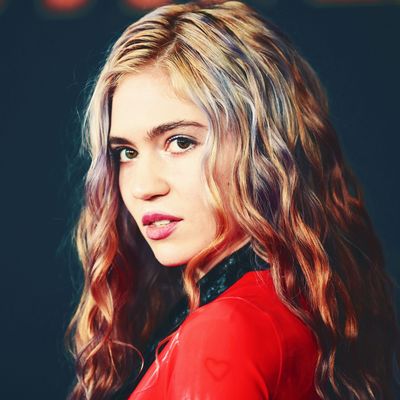 Photo: Robyn Beck/AFP via Getty Images
Two days after Elon Musk's controversial Saturday Night Live debut, Grimes was hospitalized for a panic attack, according to a recent social-media post from the musician. Tuesday night, Grimes, who is dating the SpaceX CEO, shared a couple of photos on Instagram from Saturday's show, writing, "Forgot to post these cuz I somehow caused myself to have a panic attack and went to the hospital yesterday which tbh was quite scary." Photos from Hollywood Life show Musk, Grimes, and musical guest Miley Cyrus leaving an SNL afterparty around six o'clock Sunday morning. Per her Instagram post, Grimes went to the hospital the next day.
Grimes has been open about her mental health in the past, specifically her experience with anxiety and depression. In 2019, the singer said she had an experimental surgery on her eye in order to help with seasonal affective disorder. "I suppose it's a good time to start therapy," the singer wrote in her most recent Instagram caption.
Grimes also made an appearance on SNL this weekend, playing Princess Peach in a courtroom sketch where Wario was on trial for Mario's murder. (Elon Musk, of course, played Wario.) Hence, Grimes is dressed as the video-game damsel in her Instagram photos with Cyrus.
While this was the only mention of Grimes in the episode, Musk did joke about their baby's name in his opening monologue, saying X Æ A-12 is pronounced "Cat running across the keyboard." Though Musk's hosting stint was generally underwhelming, Grimes seemed pleased with the performance, writing, "so proud of my beautiful E (which I know will upset the grimes fans so I apologize in advance) but he killed it."