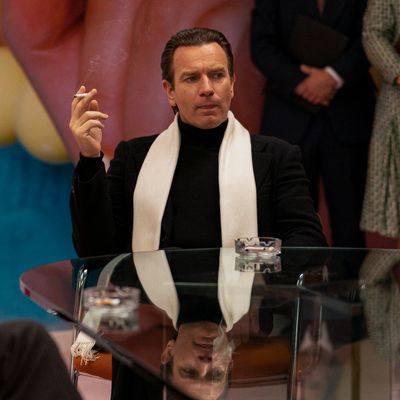 Photo: ATSUSHI NISHIJIMA/NETFLIX
Today, Netflix's glitzy new limited series Halston premieres, but it comes with a stamp of disapproval from the late designer's family. The show joins House of Gucci and The Assassination of Gianni Versace: American Crime Story in the line of recent fashion biopics not authorized by the actual families.
On Monday, the Halston Archives released a statement by Lesley Frowick, Halston's niece and CEO of the archives. Frowick said that neither the designer's family nor representatives of the archives were consulted about the series, which she called an "inaccurate, fictionalized account" of Roy Halston Frowick's life. She added, "The Halston Archives remains the only definitive and comprehensive source on the man and his legacy as the personally appointed custodian of his private papers and effects."
Halston, produced by Ryan Murphy and directed by Daniel Minahan, stars Ewan McGregor in the titular role. It follows the designer's meteoric rise and fall within the fashion industry during the star-studded Studio 54 era and the AIDS crisis in New York City.
According to WWD, Netflix never approached Frowick about the series. And she feels like his legacy has been eclipsed by a sensationalist image of his Studio 54 persona. "They approached some people from the quote-unquote inner circle, but I don't know who they are," she said. "They did not approach us at all so this is in fact an unauthorized series about my uncle's life and touching on fiction, I guess. Salacious things sell. It's sad that so many people are trying to monetize on that."
But Minahan said he just wanted to make something joyful and inspiring to watch, especially after a year of isolation. "It's a story about a really special time in New York," he told the Advocate. "I moved here because I wanted to go to Studio 54. I wanted to be with Halston, and Andy Warhol, and Steve Rubell [Studio 54's owner]. It's like this magical cultural moment in New York, and Halston created this little community of creative people. I think that's really appealing."