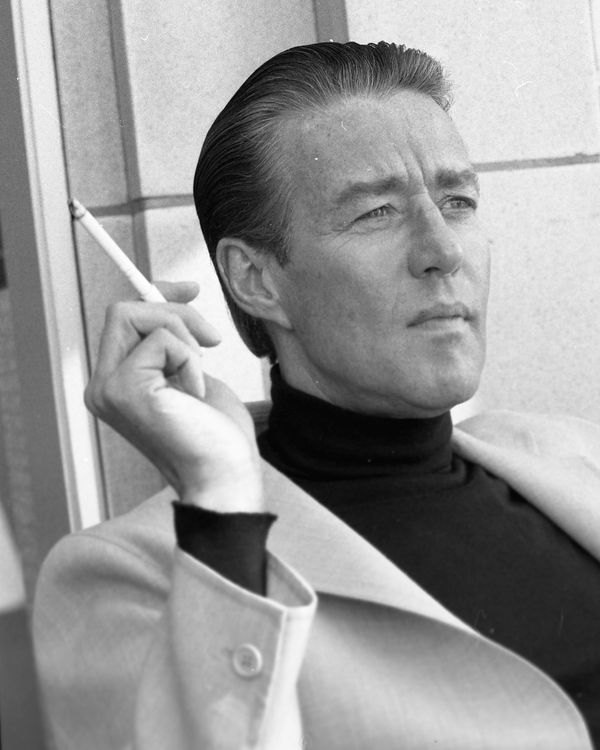 Photo: Hearst Newspapers via Getty Images
There is a scene about two-thirds of the way through the first episode of Netflix's new miniseries Halston in which the American fashion designer, played by Ewan McGregor, discovers his signature style. Babe Paley, New York's most prominent socialite, has just expressed interest in his work, and it's time to get serious. He goes home to his apartment, takes a good, long look at himself in the mirror, and decides to slick back his hair. Then he takes a cigarette break. (Pause for dramatic music.) And, finally, he brings out the pièce de résistance: a black turtleneck.
It's a cashmere baptism. When Halston peeks his head out from underneath the sweater's thick black collar, he's a new man. His lover at the time, Ed Austin, takes notice. "The past few weeks, I haven't seen you smile," he says. "You dress different. You're talking different, for God's sake …" Halston brushes him off. If it's a choice between Ed and the black turtlenecks, he's clearly choosing the turtlenecks.
Halston was neither the first person nor the last to use the black turtleneck as part of a costume. I can think of at least one other prominent business person who not only made the look into a signature uniform but who also allegedly changed her voice in order for investors to take her more seriously. Over the years, the garment has come to represent some level of "creative genius." Before Steve Jobs brought turtlenecks to Silicon Valley, Andy Warhol was wearing them to Studio 54 alongside Halston. Now, they're a bit of a cliché — or a meme, if we're talking about Drake.
Of course, there are practical reasons to make black turtlenecks your uniform. The model Pat Cleveland — a member of the "Halstonettes" — recalls peering into Halston's wardrobe before a night out and finding something like a black hole. "He opened his closet, and he said, 'This is what I have,'" she told the Cut. "And you know what he had in there? The same outfit, boom, boom, boom. And then one red jacket. 'This is my uniform,' he said. 'Then I don't have to think about what to put on.'"
Cleveland also revealed that, like the late, great Nora Ephron, Halston may have also felt bad about his neck. "Sometimes he was very insecure about himself," she said. "I remember one time in Hollywood, he was getting dressed and I was there, and he was just standing there looking at himself in the mirror. He said, 'My neck is too long.' And I said, 'Are you kidding? You look beautiful.' But he said, 'No, my neck is too long.' That's why he wore a turtleneck."
As a man obsessed with status, beauty, and luxury, it's no surprise that Halston was attracted to a seriously soft garment with magical flattering powers. In his biography, Simply Halston, author Steven Gaines describes seeing the fashion designer for the first time. "So tall and thin in his black cashmere turtleneck and sport jacket that he looked like a giant exclamation point, stern and final," he writes. (He also reported that, in the later years of his life, when Halston was battling a cocaine addiction, his black turtleneck provided an unfortunate backdrop for the white powder spilling from his nose.)
Whatever his reasons were for wearing it, Halston's signature look likely influenced others to wear the same. "He started the whole wearing-black-in-fashion thing," Cleveland declared. Liza Minnelli, a close friend of Halston's, was even photographed wearing a black turtleneck and an Elsa Peretti Bone Cuff bracelet on the cover of New York Magazine in 1997.
"He really was a branding genius, and he really only wore his own clothes," says Halston costume designer Jeriana San Juan. For the show, she managed to track down the designer's in-house tailor, Gino Balsamo, who allegedly custom-fitted all of his black turtlenecks in addition to his pants, coats, and other personal wardrobe pieces. To create the same effect for McGregor, San Juan custom-fitted almost all of his costumes as well. "I pretty much made every piece that he wears through the show, even the black turtlenecks," she said. "I found one that really flattered him well and then the same for the neck of another, so I had them knitted together."
This attention to detail — to the cut and the fit of a garment, and how it falls and feels on the body — is ultimately what made a Halston a "Halston." Unlike the Warhols and the Jobses and the Elizabeth Holmeses of the world, the designer's black turtlenecks symbolized something more decadent, more hedonistic. It was almost like instead of saying, "Look at me and how serious I am," he was inviting you to enjoy him. And, of course, if you wore his clothes, to enjoy life.